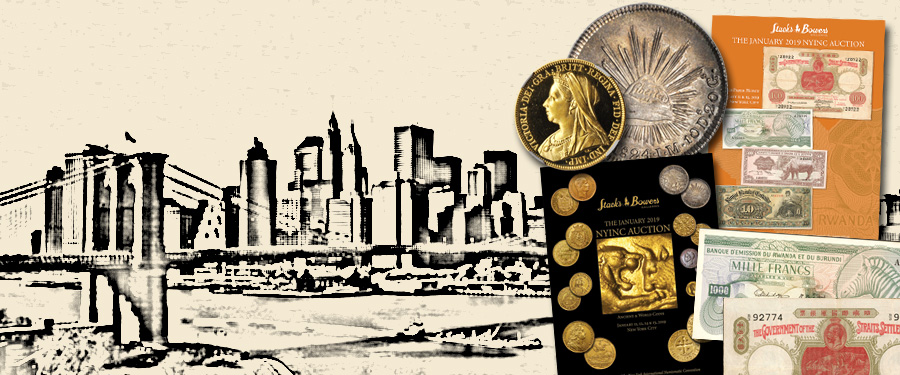 For collectors of World and Ancient coins and medals
the start of 2019 will be exciting as the 47th Annual New York International
Numismatic Convention (NYINC) kicks off the new year. The convention is open to
the public January 11-13 from 10 am to 7 pm with early bird entry on Thursday
January 10 starting at 12 noon. Treasures from around the globe will be on
display from 115 dealers ready to assist with your collecting needs. Stack's
Bowers Galleries will be set up at Table 904, at the Grand Hyatt Hotel, located
at 109 East 42nd Street, New York, NY 10022, between Park and Lexington
avenues. As always the week leading up to the convention is filled with
auctions presented by some of the most prestigious numismatic auction firms
including Stack's Bowers Galleries. The NYINC is the leading World and Ancient
coin show of the year, and usually includes some of the best material.
If knowledge and camaraderie is what you seek the
NYINC will be just right for you. Every year special programs are held for
young numismatists, as well as educational programs and club and society meetings.
The schedule of events includes meetings and sponsored lectures from the
Ancient Coin Collectors Guild (ACCG), Association of Dedicated Byzantine
Collectors, Medal Collectors of America, New York Numismatic Club, American
Association of Young Numismatists, New York International Numismatic
Convention, British Numismatic Society, Oriental Numismatic Society and
Bermanian Guild of Numismatists. For a detailed program list of the events
please visit http://www.nyinc.info/events.php. 
When the events of the day are done this does not mean
that the fun has to stop. Because of the location of the convention there is a
plethora of restaurants as well as other nightlife available. If you have an
inkling for theater, Broadway is just a short cab ride away. For more general
information on tourist activities in the area please visit www.nycvisit.com.