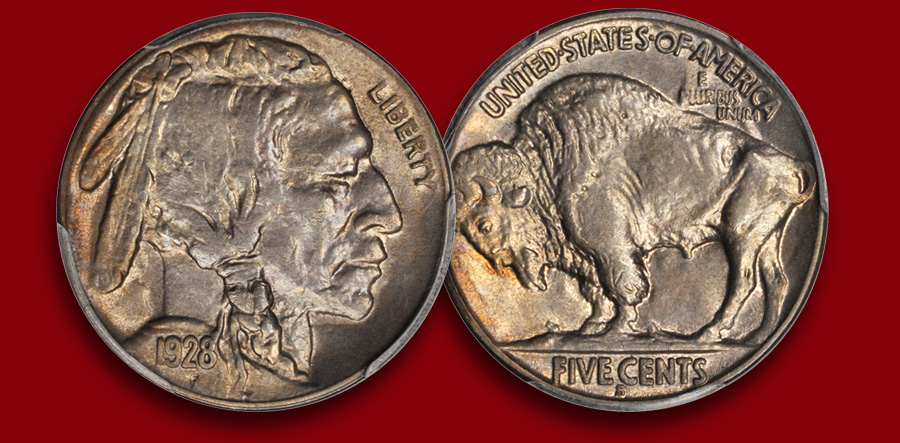 Our August 2016 Anaheim, California ANA World's Fair of Money Auction features an example of the Two Feathers variety of the 1928-S Buffalo nickel, an important find for a Buffalo nickel specialist. This delightful Choice Mint State piece exhibits a pearlescent complexion draped in faint champagne hues, with richer honey saturations lingering at the borders. The luster is overall soft and satiny, complemented by radiant blooms of mint frost glowing from the intricacies.  A very subtle thatching of die polish lines is visible at the back of the portrait's neck, alluding to the aggressive refinishing of the obverse die that removed the majority of the innermost feather. We are pleased to offer an attractive example of an intriguing variety that is seldom encountered in Uncirculated condition.
The Two Feathers varieties of Buffalo nickels are an interesting subset in that examples can be found in a surprising number of issues throughout the series.  Of the same fabric as the famed 1937-D 3-Legged nickel, the Two Feathers anomalies were born out of enthusiastic polishing of the obverse die. This dramatic refurbishing largely eliminated the small, innermost feather of the Indian's headdress, sometimes even removing sculptor James Earle Fraser's initial beneath the date as well.
Because this variety is representative of a die state and not tethered to a particular die pair, date, or even issuing Mint, there were numerous opportunities for coins with this deficiency to have been struck. While the most recent Cherrypickers' Guide (Sixth Edition, Volume I (2015)) recognizes 27 Two Feather varieties, up from just 14 varieties in the previous edition (Fifth Edition, Volume I (2009)), there will undoubtedly be more Two Feather varieties discovered as collectors become aware of the feature; just as examples of the 3-1/2 Legs anomaly have been observed in several issues of the late teens and 1920s, in addition to the renowned 1936-D mintage.
However, unlike the more famous hobbled bison varieties, the Two Feathers varieties drew much less acclaim among contemporary collectors and, as a result, relatively few examples were spared from circulation and survive in Mint State. The present MS-63 1928-S is the only Uncirculated example of the FS-401 variety certified by PCGS, trumping just one other piece graded EF-40. For both registry set enthusiasts and variety specialists, this is an important offering.
This exciting piece will be presented alongside other treasures in our August 2016 Anaheim, California ANA World's Fair of Money Auction. To consign your rarities to this showcase event, please contact our offices today at 1-800-458-4646 to speak with a Consignment Director and see what Stack's Bowers Galleries can do for you.