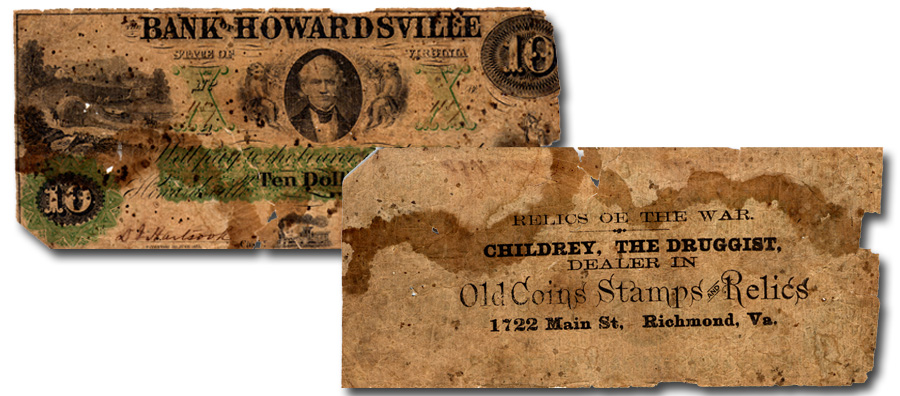 Welcome to the first-ever installment of The Exonumia Corner, a bi-weekly look at another side of numismatics. Exonumia means "outside numismatics," and is a catch-all term for items related to coin collecting, though sometimes in an off-beat way. Medals, tokens, trench art, paper ephemera, and other unusual numismatic items will be featured. This week we bring you an early coin and antiquities dealer named J.H. Childrey, an elusive figure from the numismatic past.
I first became aware of Childrey after a purchase on an internet auction site. I bought an old leather billfold marked CSA with "three Confederate notes included." The first two notes were uneventful, both "blue back" 1864 CSA $5 notes in ratty condition, but the third note intrigued me. On the back of a tattered uniface obsolete $10 note on the Bank of Howardsville, Virginia, was an advertisement on five lines: "RELICS OF THE WAR / CHILDREY, THE DRUGGIST / DEALER IN / Old Coins Stamps and Relics / 1722 Main St, Richmond, Va." Was Childrey a well-known coin dealer in his time? If the distribution of his advertising notes is any indication, he probably enjoyed some success in his numismatic sideline. His overprints occur on numerous CSA notes of varying denominations and types, as well as on obsolete notes from across the south. Childrey's overprints are also found with varying style and address changes in the advertising.
Was Childrey old enough to be a Civil War veteran? If so, did he wear the Federal blue or the Confederate gray? In Richmond, Her Past and Present by William Asbury Christian (L.H. Jenkins, 1912) a J.H. Childrey is listed as a rifleman in Company B, First Regiment of Riflemen under the appendix titled Official Rosters of the Richmond Companies Mustered in the Service of the Confederacy 1861-1865. If this is our J.H. Childrey, his sympathies were plainly with the South. As a resident of Richmond he may have witnessed the destruction of the city by Union troops in 1865, and as a businessman in the city during Reconstruction, he probably took much pride in the city's renaissance in the years that followed the war.
Other than the note I own and the numerous notes I have seen illustrated on the Internet, I have not been able to find any other numismatic footprint left behind by J.H. Childrey. It wasn't uncommon during the 1870s and later to advertise for old coins, Indian artifacts, relics of the CSA, and other collectables, and Childrey the druggist must surely have had some success. Though Childrey's advertising medium of obsolete notes and CSA currency was inexpensive, the time and effort he put into the advertising hopefully paid off. I can only wonder what rare coins he may have handled in his day!
Though I couldn't pin down the date of birth for our Mr. Childrey, I did find an obituary. As noted in The Pharmaceutical Era for January 5, 1899: "J.H. Childrey, one of the oldest druggists in Richmond, Virginia, died December 25 [1898] after a long illness. Mr. Childrey was one of the pioneers in Richmond pharmaceutical circles, though he was not at the time of his death engaged in the drug business. He leaves three sons, two of whom are engaged in the drug business in Richmond."