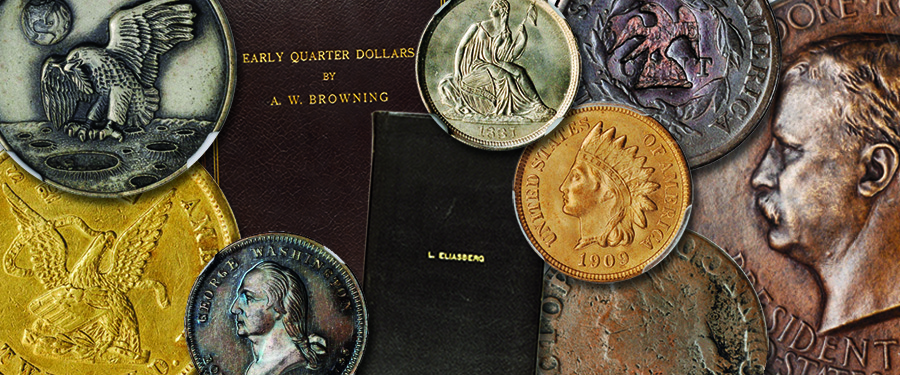 If this catalog doesn't have it, you probably don't need it! Well, not quite, but there are so many great coins here that chances are good that many spaces could be filled on your want list! Some of the items are sufficiently rare that if you are not a successful bidder, you may forever go without. Don't let that happen! Opportunity is the key word.
Among United States federal coins we are pleased to offer the BSC Collection of Indian Head Cents. This cabinet is virtually complete and offers exceptional grades, including for the key 1877 and 1909-S. Another feature is the Henry Collection of Liberty Seated Half Dimes, which is a nearly complete set in exceptional grades. The 1840-O and 1842-O will appeal to the most advanced specialist, and the Ultra Gem 1867 combines low mintage with a very high grade.
In addition, there are some very desirable colonial coins, including a 1652 Large Planchet Pine Tree Shilling, Noe-4 in AU-58 (NGC) with a CAC sticker, a 1787 Connecticut Copper, Miller 8-a.1 in Fine-12 (PCGS), and an Undated (ca. 1785) Bar Copper in AU-55 (PCGS).
As is so often the case, this Stack's Bowers Galleries catalog offers Exonumia that encompasses many fascinating areas. Civil War Tokens, always a hot ticket, will sparkle with the Sherwood Collection—a vast cabinet of Patriotic Civil War tokens in Condition Census grades. Featured are several Rarity-9 pieces including a Choice Mint 1864 Fuld-142/349f (McClellan/Drums) in silver and a full brockage of Fuld-135/135a (Jackson/Jackson) in copper. A Rarity-8 1864 Fuld-96/116a (Native American/Washington) will surely appeal to fans of Washingtonia, as well!
I have always loved counterstamped coins and know a lot of others do as well. The problem is that as a class, choice counterstamps are few and far between. Now, behold the Steve Tompkins Collection of Exonumia, Part I, a varied cabinet of counterstamps featuring a wide array of merchant types and host coin denominations that will be offered as its own section in our Internet-Only session. A rare 1838 Reeded Edge half dollar host coin is stamped I. POST (Brunk P-625, Newark, NJ) and a bold graphic of an eagle on a half globe (Brunk-Unlisted) is punched into an 1814 large cent. The mark of New York gunsmith Samuel Colt (Brunk-Unlisted) on an 1850 large cent will also attract considerable interest.
In addition to these tokens and counterstamps, we have an impressive selection of medals in the sale including the most iconic issues. We are delighted to feature silver examples of the 1862 Abraham Lincoln Indian Peace Medal (J-IP-38) and the 1825 John Quincy Adams Inaugural Medal (J-PR-5), as well as a bronze 1905 Theodore Roosevelt Inaugural Medal by Saint-Gaudens showcasing a desirable Tiffany edge mark. Fans of aviation and aerospace will be thrilled at our offering of several space-flown Robbins medals, highlighted by a 1969 Apollo 11 medal in presented to astronaut Jack Swigert.
Before I bring this welcome letter to a close, I want to suggest you clear a bookshelf and get ready to bid on books from the D. Brent Pogue Numismatic Library. Numbering more than 100 lots, these range from a handsome 17th-century work on medallic issues of 1500-1600 to books that I presented to Brent over the years, many with personal inscriptions. In between these bookends will be found many important references, from important plated Chapman sales, to extremely rare volumes, such as one of five deluxe presentation copes of A.W. Browning on early quarters. One-of-a-kind highlights include an undated appraisal of the John H. Clapp Collection by John Zug, likely circa 1942 when Louis Eliasberg acquired the Clapp Collection, and an exceptional copy of Green's Numismatists' Reference and Check Book with gilt lettering on the cover: "L. ELIASBERG."
There is much, much more of interest included in the pages of this catalog and I suggest that you review it from front to back, including the Internet-Only offerings where many opportunities beckon. It is likely that you will find items that are of interest to you, either to add to your already existing collection, or to start something entirely new. I also remind you that our August auction also includes offerings of United States currency, Ancient coins, and World coins and paper money, truly an impressive event.
You can participate in the Stack's Bowers Galleries August auction in a variety of ways. While in-person bidding is scheduled to take place at the Bellagio Hotel and Casino in Las Vegas, most of our clients will be "attending" the auction from their homes or offices. You can place your bids before the sale by mail, fax, or our website StacksBowers.com or you can bid live during the auction either online via our website or mobile apps or, if prearranged, by telephone. If you have any questions or need any help getting set up to bid, don't hesitate to contact our auction services department at 800-458-4646.
Once again, welcome to our August 2020 Auction and I wish you the best of bidding success.
Sincerely,
Q, David Bowers
Co-founder, Stack's Bowers Galleries