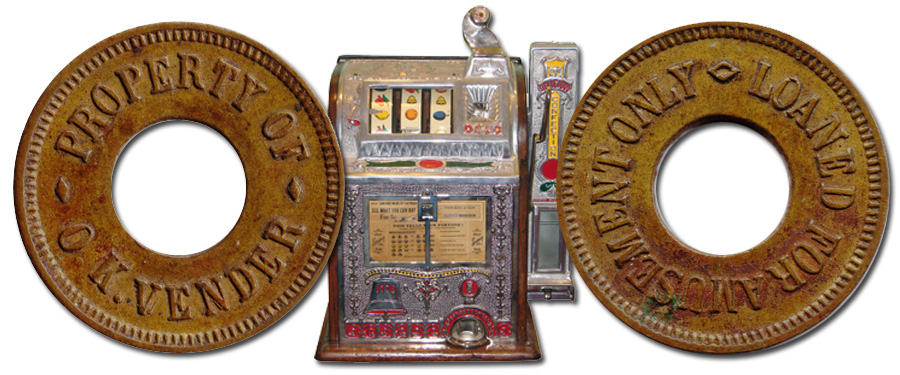 Question: I have a nickel-size brass token marked "PROPERTY OF O K VENDER." To what does this refer?
Answer: This token was produced for use with the O K Vender, a three-reel slot machine manufactured by the Mills Novelty Company in Chicago, Illinois. Such devices were popular in the 1920s and 1930s, and apparently tens of thousands of units were made.
The O K Vender was basically a gambling machine. However, it had two alterations or modifications to make it appear not to be such, so as to be legal in certain areas or at least to give the owners of these machines a talking point with law enforcement officials.
First, attached to the slot machine was a vending device which dispensed wrapped rolls of mints bearing the trade "Vens," and available in different flavors. These mints were of poor quality, and in addition, some instruments were equipped not to dispense a roll of mints after a nickel was put in, but, rather, to make it possible to dispense a roll of mints  after the nickel was put in if the patron then pushed a button on the mint dispensing device. In other words, if the patron really didn't want mints but wanted to gamble (which was nearly always the case), he or she did not have to bother accumulating the mints. The mints stayed in the machine unless a button was pushed, which it rarely was.
Secondly, rather than dispensing nickels for the jackpot or for winning each time two or three cherries, a row of lemons, or other prize indicators came up, the unit would dispense a handful of brass tokens such as the one you have. It was intended that the recipient of these tokens use them only paying them back into the machine, thus not really "gambling" in the sense that winnings could be taken home. In practice, most operators were pleased to exchange them for real Buffalo nickels.
A wide variety of gambling tokens can be collected. Along with this and other varieties from the Mills Novelty Company, other companies issuing tokens included Caille Brothers, Watling, Fey, and Jennings, as well as dozens of local and regional firms. The O K Vender token you have is very plentiful and the value is not very great, showing that an item with truly interesting historical appeal can be obtained for a small cost.