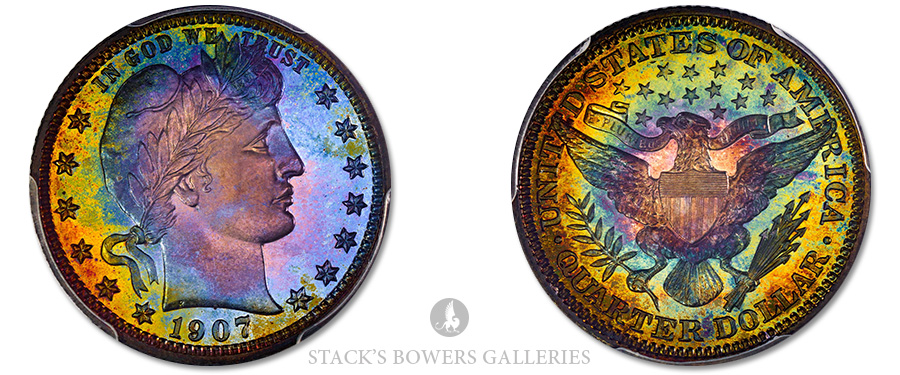 Proof Barber quarters are known for low mintages, as well as their beauty and desirability. Although produced in small numbers, Barber quarters come on the market more often than one would expect, and cameo contrast, Gem grades and brilliant or nicely toned examples can be found with moderate effort. Usually toned coins feature a range from dusty rose-gold to a dark hue and display the slightest remnant of a rainbow only at a particular angle. Finding an extraordinarily toned example that stands out from the rest is far more difficult.
In our June Official Auction of the Whitman Coin & Collectibles Summer Expo we are thrilled to present a stunning example that is a strong contender for the title "Most Attractive Proof 1907 Quarter Known." Graded Proof-67+ by PCGS and with CAC approval, this colorful gem is absolutely beautiful and displays incredible toning. The obverse and reverse are both enveloped in vivid, radiating rainbows that require no special light or tilt of the coin to appreciate. The colors are somewhat target-like from the rims to the centers, a feature that toning enthusiasts find very appealing. The coin is fully struck, and the surfaces are serene. We anticipate this coin will attract strong bids from advanced type collectors, toning enthusiasts and Proof Barber quarter specialists. Price guides, population reports and past auction records should fall by the wayside when this distinctive beauty crosses the auction block during our June 2022 Rarities Night Session.
For more information about the Stack's Bowers Galleries June 2022 auction visit StacksBowers.com. To consign your coins or paper money to one of our Showcase auctions or to our Collectors Choice Online auctions call 800-458-4646 or email [email protected].