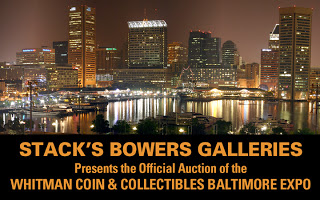 "Nothing happens until somebody buys something."
Or conversely,
"Nothing happens until somebody sells something."
These are familiar sayings to those of us who have studied advertising—one of my favorite pursuits ever since I was in high school.
In numismatics we all love to visit museums to see coins, tokens, medals, and paper money, and it is great fun to look through a book or catalog and contemplate the pictures.
However, the true excitement for you as a collector is when you buy something. That 1652 Pine Tree shilling in your hand is infinitely more exciting than seeing many of them pictured in S.S. Crosby's The Early Coins of America.
And, for us here at Stack's Bowers Galleries the excitement comes in selling nice things to you and others.
Coming up in a few weeks is the Whitman Baltimore Coin & Collectibles Expo. We have been honored as the official auctioneer for many years. The latest are two related sales at the Expo in March. One is a general sale with over 4,900 (!) lots—from colonials to commemoratives, from half cents to double eagles. The other is Rarities Night on Thursday evening—when classic rarities are scheduled to cross the block.
If you are new to numismatics, come to the Baltimore Expo, enjoy the surroundings, and view some of the lots to be auctioned—including many coins that are ideal as starters. If you are an old timer, the red carpet is out for you too—of course, as you know. See you there.
Or, if you are not attending, then bid live on the Internet. Although I and the other staffers will miss seeing you in person, you'll still have a very rewarding experience.
Either way, buy something and "something will happen," as I mentioned in the start of this commentary. That "something" will be the excitement of bidding and the pleasure of enjoying what you buy.