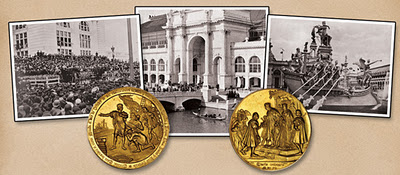 "Columbiana" is the name given to the marvelous variety of medals created for the 1892-1893 World's Columbian Exposition in Chicago. This great world's fair hailed the 400th anniversary of Columbus' discovery of the New World and gave its city the nickname "the Windy City" by the enthusiasm of its boosters. Its dazzling array of medals was cataloged by the late Chicago collector Nathan Eglit, whose somewhat disjointed listing is the source of the Eglit numbers still in use long after his paperback went out of print in the 1960s.
Eglit's work brought together silver, bronze, white metal, and aluminum medals of all sizes and shapes, including a very few pieces struck in gold. These often portrayed a discoverer of whom no original likeness has ever been found. Medals depicted buildings and exhibits of the fair, advertised products displayed there and offered views of all kinds of expo landmarks including its famous Ferris Wheel.
Some medals were "both inexpensive AND cheap," but others were of dazzling quality, among them the 70 millimeter, 9.9 troy ounce Discovery and Return of Columbus Medal by Spanish artist Bartolomé Maura y Montaner. With exquisite accuracy, the medal showed Columbus on the deck of one of his three ships, cheering on his exhausted crew just before his landfall on San Salvador. The reverse shows the great Navigator approaching the thrones of King Ferdinand and Queen Isabel at their court of Granada, his Arawak Indian guests following holding a large parrot. All legends are in a Gothic lettering for really archaic effect.
This medal is scarce in silver and bronze, virtually unique in gold. An About Uncirculated example is lot 6293, a major highlight of the Stack's Bowers Galleries January 24-26 Americana Sale in New York City.