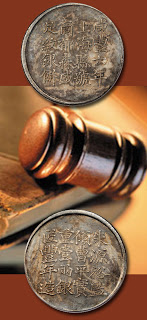 This week we highlight a rarity from our upcoming August Hong Kong sale, which is one of the very first silver Tael coins struck in China. The Shanghai "Silver Cake" Taels were conceived as a remedy for the disparity between the Chinese banking system and the foreign merchants in what was then China's busiest commercial center. The need for a standard Chinese coinage was compounded by the hoarding of Spanish 8 Reales of Charles IV during the Tai Ping Rebellion, causing a major shortage of coinage in the city. While these pieces were not struck by official government mints, or for that matter, government institutions, they were a government sanctioned currency issued by Chinese bankers and made by Chinese silversmiths. Unfortunately this project failed after only six months as the piece-meal nature of their minting could not keep pace with demand and the simplistic nature of their design was easily counterfeited.
The need for these "Silver Cakes" had its roots in the international trade which had been gaining momentum in China over the preceding two centuries. By the end of the 18th century the Spanish "Carolus Dollar" was the most widely accepted trade coin of the world. The Chinese in particular were quite fond of its strict uniformity in dimensions, weight and fineness. So fond in fact that even after Mexico's independence from Spain the new Mexican 8 Reales were not immediately accepted and the Spanish coins continued to circulate at a premium over traditional Taels of silver in the form of sycee with their value in copper rising about 25 percent in the early 1850s. In addition to this precarious monetary situation the Small Sword Society uprising of 1853 in Shanghai caused an even stronger hoarding of silver coins. By 1855 contemporary accounts cite that currency and coin seems to have disappeared from the city and that many transactions were being conducted on a barter system. Attempts were made to legally force the acceptance of Mexican and other South American Dollars at par with the Carolus Dollars, however these edicts did not meet with success as the buying of Carolus Dollars at premium in the past meant a loss for those currently holding them.
As a solution to this impasse and to try and simplify trade within the complex Chinese currency system, foreign merchants switched to using the Tael as their unit of trade. This was a rather revolutionary concept for European traders as no actual coin existed to represent this denomination. In order to begin dispersing Taels in exchange for Mexican and Carolus Dollars three local firms, Wang Yong Sheng, Jing Zheng Ji, and Yu Shen Sheng, were contracted to produce and disseminate the new coins. All three firms produced similar looking coins with no pictorial representations on either side. The only differences between them were the names of the responsible firms and silversmiths. We bring to auction an example of the Tael coin issued by the Yu Shen Sheng firm (L&M-591) which reads thus: Obverse: Cake (of) standard silver (from the) business firm (of) Yu Shen Sheng (in the) Shanghai district (in the) 6th year (of emperor) Hsien Feng (1856). Reverse: Made (by) Feng Nien, silversmith. Supervised (by) Chow Yuen Yu. Exact weight one Tsaoping Tael.
We are excited to present this very rare and historically fascinating piece of Chinese numismatics. Graded a solid AU-55 by PCGS this piece is the finest certified of its type by NGC or PCGS. Deep toning testifies to the piece's age with a nice strike adding to its overall appeal. Not since our December 2010 Hong Kong auction have we been able to offer this particular variety of Shanghai Tael, with that piece graded NGC AU-50 and realizing a final bid of $63,250. Look for this alongside many other rarities in the upcoming Stack's Bowers and Ponterio August 2012 Auction in Hong Kong.