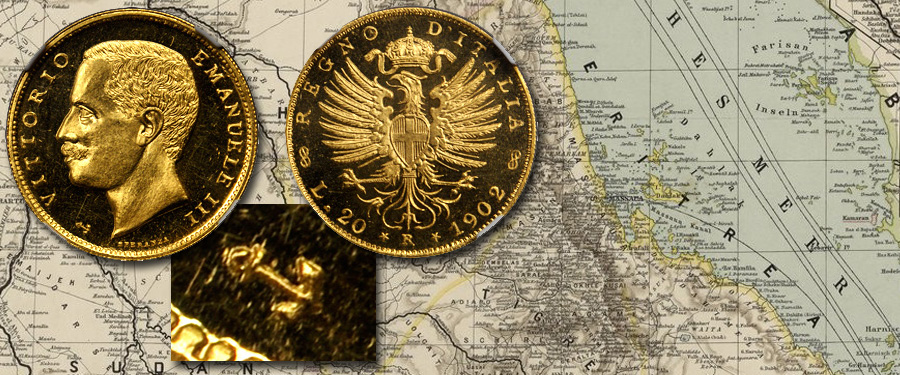 Now that our May Collector's Choice Online (CCO) auction has closed, we are turning our attention to focus on our ANA World's Fair of Money auction in Denver, Colorado, August 1-5, 2017. Among the many interesting and valuable numismatic treasures already consigned to this auction is a very rare Italian 20 Lire 1902-R with an anchor on the obverse, indicating that it was struck from gold imported from the colony of Eritrea. The obverse depicts the standard design of the youthful bust of Vittorio Emanuele III (Victor Emmanuel III) left, with legend around, die engraver's name below truncation and anchor to left. The reverse depicts the Imperial eagle head left with crown and ribbon above, legend, date, mintmark and denomination around. Not much is written about this particular issue in the reference books and it took some searching to find pertinent information about their preparation and manufacture.
According to the African Review May 10, 1902, prior to 1899 Eritrea had never been prospected for minerals. During that year it was brought to the attention of the Governor of the Colony, Signor Martini, that a large block of rich gold-bearing quartz had been discovered by a native. Shortly thereafter two experienced prospectors aided by natives concluded that many of the outcropping quartz reefs contained gold. The Eritrea gold mining company was established in June 1900.
The mines of Sciumaghelle, with a depth of 200 feet, and Medrizien, with a depth of 140 feet, were selected for the initial operations. By December 31, 1901, the two mines had yielded about six ounces of gold. Other mines were also set up at Regina di Saba, Adiconsi and Az Nefas with similar results. According to the Annual Report of the Director of the Mint (Washington) for the Fiscal Year Ended June 30, 1903, page 237: "In 1902 gold in the amount of 5,920 lire was coined, in pieces of 20 lire, using in part, as an experiment, metal obtained from the mines of Eritrea and in part gold purchased." When divided by 20 the number comes to 296 total pieces struck for that year between domestic and imported gold. The Mint report also stated, on page 237: "Gold Produced from mines of the country during 1902: Kilograms, 11. The value of the gold produced, 37,811 Lire." And: "Gold product of the colonies of the country during 1902: The gold Mining Company of Eritrea in the year 1902 continued the preliminary work begun in 1901, with satisfactory results. However, we have no figures as to the quantity of the production." Clearly not all of the gold produced during this year was used in the manufacture of coinage and must have been either deposited in the treasury, exported, or used for other manufacturing.
This coin is VERY RARE, historically significant and deserving of more in-depth research. It offers hard mirror fields with frosted cameo devices and is very attractive. Our offering in August is sure to excite even the most advanced collectors of Italian numismatics.
We are currently accepting consignments of world and ancient coins and world paper money for our August 2017 ANA Auction and Chinese and other Asian coins and currency for our August 2017 Hong Kong Showcase Auction. In addition we are always looking forward to other future sales, so if you are interested in consigning your coins and paper currency (whether a whole collection or a single rarity) be sure to contact one of our consignment directors.