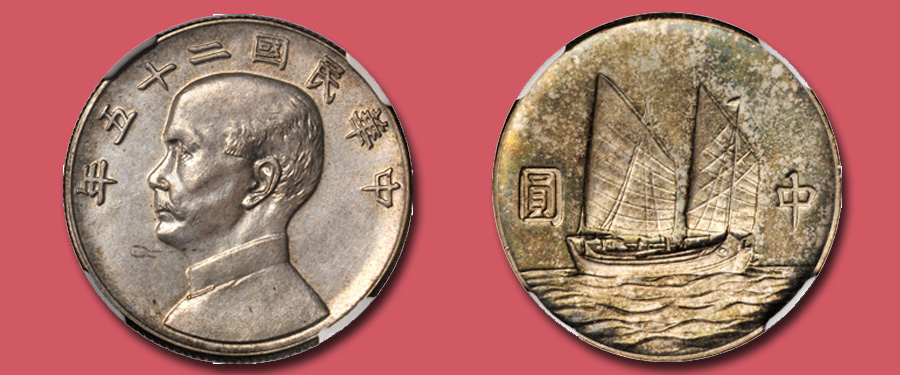 This week we preview from the Stack's Bowers & Ponterio August 2014 Hong Kong Showcase Auction a very rare pattern Half Dollar featuring the distinctive and ever popular Sun Yat-sen and Junk boat design. Dr. Sun Yat-sen was a Chinese revolutionary who spearheaded the downfall of the Imperial Chinese Qing Dynasty and the dawn of the Republic of China. As the founding father of the Republic of China, Sun is still revered today despite the near-constant struggle and frequent exile he faced during his life. He continued to lead revolutionary governments throughout the Warlord Era. Despite these setbacks, Sun's legacy is positive due to his political philosophy denoting nationalism, democracy and the people's livelihood.
This pattern coin was minted in San Francisco in 1936, at the request of the Chinese government. At that time the U.S. government held approximately 3 million fine ounces of silver that belonged to the Chinese government. These coins were to be smaller in size than the previous Sun Yat-sen coinage issues. The U.S. government coerced the Chinese government to continue striking silver coinage, despite the Chinese currency reforms enacted just a year earlier. One of the points of the reforms was to establish currency whose convertibility was not tied to silver. Another point of the reform was that circulation of silver Dollar coins within China was prohibited. The continued production of silver coins was to cease, except only as token coins. The main obverse design features the widely recognized bust of Dr. Sun Yat-sen facing left created by A. Motti of Italy and furthered refined by John Sinnock of the Philadelphia Mint. The obverse legend states: "25th Year of the Republic of China". The reverse design features the iconic Junk boat image, with two sails as it glides across the water to the right. Two Chinese characters for "Half Dollar" appear on either side of boat. This excellent example is subtlety toned on the obverse, with deeper and more vibrant toning on the reverse. This coin has been graded by NGC, and is tied for finest certified by either NGC or PCGS with a grade of MS-63.
Look for this and other Asian numismatic rarities in our upcoming August 2014 Hong Kong Showcase Auction. Preview this coin along with the rest of our auction this July and August at the Stack's Bowers and Ponterio office located in Irvine, California. For details please refer to the Events Calendar. To schedule an appointment, please call 800.458.4646. Our Stack's Bowers and Ponterio August 2014 Hong Kong Showcase Auction is still open for further consignments of Asian coins. Time is running short, so if you are interested in consigning your coins and paper currency (whether a whole collection or a single rarity) be sure to contact one of our consignment directors.