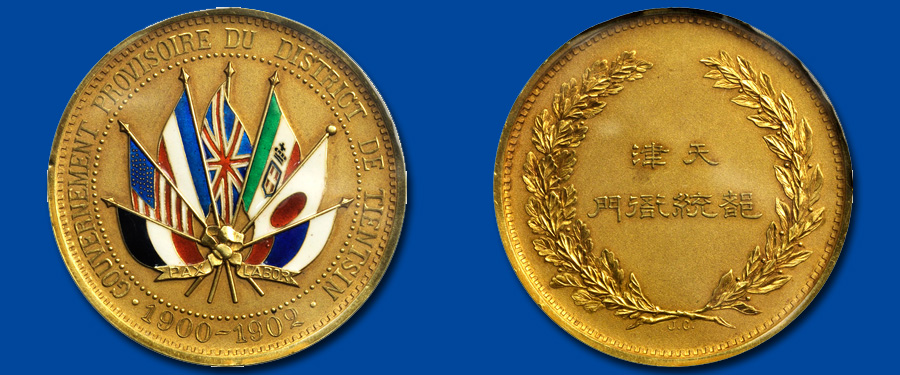 The upcoming April Hong Kong Showcase Auction is shaping up to be quite a superb event! Stack's Bowers and Ponterio is eager to begin our many showcase blogs with a gold medal from a pivotal moment in Chinese history. The Boxers seized the city of Tientsin in June 1900, and the Eight Nation Alliance (Germany, United States of America, France, United Kingdom, Italy, Japan, Russia and Austria-Hungary) recaptured the city on July 14th. Two weeks later the Alliance formed a provisional government on July 30th. For nearly two years the provisional government exerted military control over the city of Tientsin and the surrounding area. Toward the end of the spring of 1902, Governor Yuan Shih-kai of Chihli began talks to return control of the city and its environs to the Qing government. Tientsin Tutung Yamen ceased to be on August 15th, but during its tenure it produced gold and silver medals, with the gold examples only presented to the foreign dignitaries of the provisional government. This medal is of great historical importance, clearly representing an international effort to stabilize the rapidly deteriorating control of the Qing dynasty. Only a small number of these gold medals are extant today, with most other examples impaired in some capacity. The piece presented here is absolutely stunning, with beautiful luster, pristine enamel on the nation's flags and choice honeycomb gold coloration. It is truly a world class example by any measure, and worthy of inclusion in the most advanced collection.
The obverse design features an impressive vexillogic display (left to right, Germany, the United States of America, France, Great Britain, the Kingdom of Italy, Japan and Russia). Just below the flags appears a banner stating: "PAX LABOR." The outer French inscription states "Provisional Government of the District of Tientsin," with the dates of 1900-1902. The reverse displays a central two line Chinese inscription within a laurel and oak wreath.
Though our Stack's Bowers April Hong Kong Showcase Auction is no longer open for consignments, we are now accepting consignments of world and ancient coins for our August 2016 ANA Auction as well as Chinese and other Asian coins and currency for our August 2016 Hong Kong Showcase Auction. Time is running short, so if you are interested in consigning your coins and paper currency (whether a whole collection or a single rarity) be sure to contact one of our consignment directors.