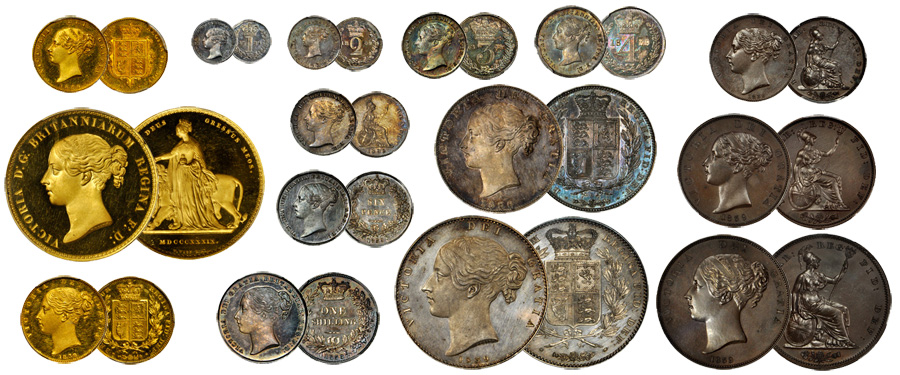 This installment of the
World Coin of the week offers an especially fantastic item. In the upcoming
Stack's Bowers Galleries January 2017 New York International Auction we have an
iconic "Una and the Lion"
Proof set. Rightly considered among the most spectacular English
coin designs, the Una and the Lion Pattern 5 Pound by itself would warrant a
feature here. In our January auction, however, this piece is not alone; it is
accompanied by all denominations from the Farthing to the Sovereign, including
the Maundy set. The set has clearly been together since it was issued, likely
stored in the original box for much of that time as indicated by the nicely
matched patinas. Though the box is no longer present, the coins have been
handled carefully over the years. All the pieces are housed in slightly older
generation NGC holders, with serial numbers that indicate the originality of
this complete set. All were clearly submitted for grading at the same time.


The powerhouse of this
group, the Una and the Lion 5 Pound, is known for its expressive and wonderfully
detailed reverse design by William Wyon, chief engraver of the Royal Mint. His
exceptional talent is evident with the stately Queen Victoria, as Una, in full
coronation regalia holding a globus cruciger in one hand and a scepter
horizontally over a massive lion in the other. This scene alludes to the
mythical Una, the young daughter of a knight. The story goes that while Una was
walking alone in the woods she was set upon by a ravenous lion. Instead of
devouring her as a hapless victim the lion was overcome by her beauty and
became her companion instead. The lion, a clear symbol of British strength, is
used to show that though the ascending monarch was a young woman, she should be
taken seriously. This set is truly remarkable and desirable, highlighted by one
of the most famous rarities of English numismatics. The condition and eye
appeal are noteworthy and must be seen to be truly appreciated.
While we are no longer
accepting consignments for our New York International Auction, we are accepting
consignments of world and ancient coins as well as world paper money for our May
2017 Collector's Choice Online Auction and our August 2017 ANA Auction as well
as Chinese and other Asian coins and currency for our April 2017 Hong Kong
Showcase Auction. Time is running short, so if you are interested in consigning
your coins and paper currency (whether a whole collection or a single rarity)
be sure to contact one of our consignment directors.