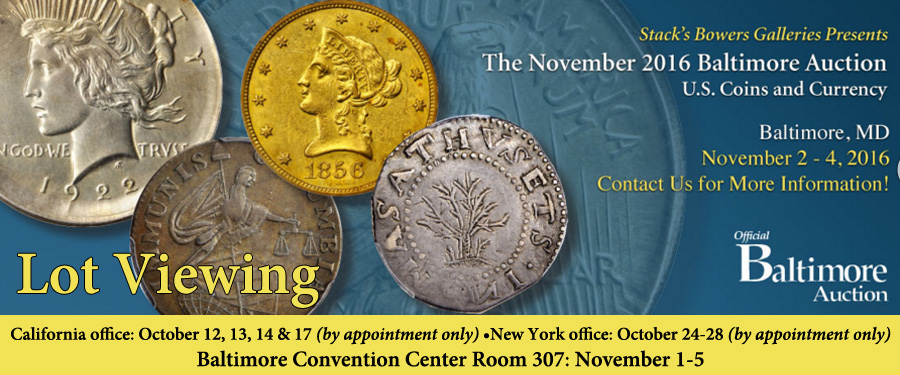 ​Stack's Bowers Galleries
is the official auctioneer of the Whitman Coin & Collectibles Winter Expo,
being held the first week of November in Baltimore, Maryland. Lot viewing will
take place at our headquarters in Santa Ana, California by appointment only
from October 12-14 and October 17, 2016. Lot viewing will also be held in our flagship
store in Manhattan by appointment only from October 24-29, 2016. Please call
800-458-4646 to make your appointment.
Lot viewing will also be
held at the Baltimore Convention Center in Room 307 beginning Tuesday, November
1 through Friday, November 4 from 9 AM-6 PM and on Saturday, November 5 from 9
AM-Noon. We are putting the finishing touches on our catalog, but if you want
to make sure you receive one, please give the auction services department a
call at 800-458-4646. Or, check out our website in a couple of weeks and
download your free copy to your computer or tablet. We look forward to seeing
you in Baltimore for another Stack's Bowers auction event!