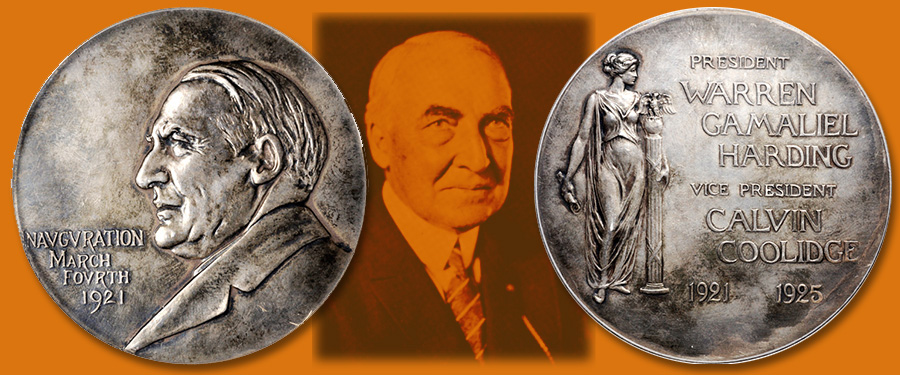 United States Presidential Inaugural medals been official issued since William McKinley's took the oath of office in 1901. For the past 118 years these medals have marked the change of administrations, and can conjure nostalgia or bitterness depending on the events of the four years in-between. Among the rarest issues from this series are those from the 1921 inauguration of Warren G. Harding.  Just two were struck in gold and fewer than 10 each are known in silver and bronze. We are thrilled to present an exceptional silver example graded Specimen-63 (PCGS) in our November 2019 Baltimore Auction, where it is being offered as part of the Edmund W. Dreyfuss Collection of Presidential Inaugural Medals.
It is a gorgeous example with glossy surfaces and original patina throughout. The lavender-gray sufaces display colorful iridescence blending golden and violet shades. The strike is very sharp and perfectly centered. File marks at the rim are as-issued and most obvious at the right reverse border. This piece is an exceptional rarity among United States medals and is certainly the holy grail of the Presidential Inaugural series.
The November 1920 victory of Republican Warren G. Harding over Democratic contenders James M. Cox and Franklin Delano Roosevelt was to have been celebrated with "the most dazzling celebration in the memory of the present generation." This event was to be directed by Washington Post publisher Edward "Ned" McLean and his heiress spouse Evalyn. Campaign denunciations of Woodrow Wilson's supposed governmental extravagance, surviving asceticism from the First World War and the sudden lurch of the nation's economy into a vicious post-war Depression derailed the planned extravaganza. Nevertheless, the McCleans offered their own lavish private hospitality, which extended to the striking of this Inaugural Medal in very small quantities by R. Harris & Co. of Washington.
While not as famous as the 1905 Roosevelt inaugural medal by Augustus Saint-Gaudens, the medals of Warren G. Harding's 1921 inauguration are exponentially rarer, and each appearance is a significant numismatic event. Of the fewer than 10 thought to survive in silver, most are held tightly in private collections or institutions. We have not handled a silver example since April 1986 when we sold the collection of David W. Dreyfuss, the present collector's brother. More recently, we offered a bronze example in our March 2011 Baltimore sale which brought $17,250. We expect even stronger interest in this silver piece.
This Specimen-63 (PCGS) example will be featured in our Official Auction of the 2019 Whitman Coin & Collectibles Winter Expo, along with many other rare and desirable medals. The sale will be available for viewing and bidding on our website www.StacksBowers.com, or you may contact our offices to secure a printed catalog. To feature your collection in one of our auctions, speak with a numismatic representative today at 800-566-2580 or email [email protected] Also, download our mobile app to view and participate in our auctions via your Android or Apple device.