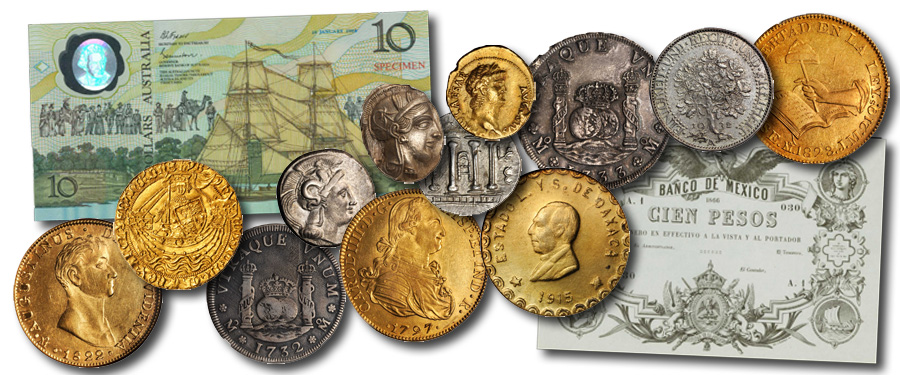 This past week, the world coin catalog for our Official Auction of the Whitman Coin & Collectibles Baltimore Expo arrived in the office, and I sat with it for a few hours and enjoyed reviewing the coins and banknotes being offered in the sale. We are proud to offer several important collections including the David Gray Collection; selections from the collections of the Strong, Rochester, New York; and coins from the George Gund III Collection.
Session A begins at 10 am on the morning of October 30, and begins with world banknotes from a wide range of countries. World banknotes, long overlooked by collectors, are becoming more and more popular among specialists. The artistic designs and beautiful engraving make this a wonderful specialty, and many rare banknotes can be had for fractions of what similarly rare U.S. notes cost. In all, 153 lots of world notes will be offered in the session. Lot 8 is a rare 1988 Reserve Bank of Australia $10 Polymer Specimen note, PMG Choice UNC-64, and valued at $10,000-15,000. Lot 99 is a remainder note from with the rare 1866 Banco de Mexico 100 Peso design. Graded Choice UNC-64 by PMG, this bright note is worth between $6,000 and $8,000.
Ancient coins begin at lot 154, and feature a nice selection of Greek and Roman coins. Lot 158 is a silver Distater of Thurium in Lucania, ca. 400-350 BC. A popular type with the head of Athena on the obverse and a bull on the reverse, graded Nearly Extremely Fine, this is a great Greek type coin for the beginner or advanced collector. Among the most widely collected types of ancient Greek coins are the owl type Tetradrachms from Athens. Lot 178 presents a very nice, NGC certified example, called AU, Strike 5/5, Surface 5/5. It is struck on an oval flan but both sides are well centered with all devices showing. A pleasing EF Bar Kochba Revolt, Sela Tetradrachm from year 3 is being offered in lot 208, and is a great representative of this important Jewish coin. Among Roman coins, an EF Aureus of Nero will be sold when lot 243 crosses the block. The ancient coin section is rounded out with a fine selection of late Roman and Byzantine solidi.
An extensive selection of the coins of Mexico, long a specialty of Stack's Bowers begins at lot 391. The section is anchored by two specialized collections: the David Gray Collection and the Demar Collection. These offerings represent two very different areas in the diverse arena of Mexican numismatics. David Gray focused primarily on the transitional years of 1732-34, where the coins transitioned from the crude cob types to klippe types, to the famous and popular milled Pillar type. At the front of the section, Kent Ponterio has provided an essay explaining the transition in detail, and the coins themselves represent various combinations of design types and planchet stock. Lot 457 represents the first milled 4 Reales of Mexico, a very rare 1732 example in NGC VF Details. Despite the NGC details grade, this coin was the cover coin on the Ponterio & Associates August 1997 sale. Lot 487 is a choice Mint State 1733 Pillar Dollar 8 Reales, graded MS-63 by NGC; this exceptional piece will be the centerpiece of the next cabinet it graces. A lustrous MS-63 (PCGS) 8 Escudos of 1797 will cross the block as lot 593. A pair of important Mexican 8 Escudo types are represented in lots 620 and 633. The first is an MS-62 (NGC) example from the short lived Empire of Iturbide and is a lustrous and well struck example of this scarce type. The second is a high grade Hookneck type of 1823, certified as AU Details by PCGS, the grading service noting a streak removed. Many high grade coins are represented throughout the offering The Demar Collection focused on the Mexican Revolutionary coins of 1915, and is highlighted by a set of Oaxaca type coins, including a gold 20 Peso, NGC MS-65 (lot 713) that is tied with one other for the finest certified.
World coins in gold, silver and copper are offered in session B, which commences at 10 am on Friday, October 31. Among the 580 lots will be a great selection of European crowns, particularly strong in German States issues. With much anticipation, we are proud to offer lot 1220, a newly discovered 1932/1 German Five Reichsmark. This exceedingly rare overdate variety was discovered by our numismatic staff while processing a small consignment of world coins. This is the only known Weimar overdate issue, and we expect strong bidding participation when it crosses the block. An old friend, a British gold Noble of 1422-27 in PCGS MS-63, will be offered in lot 1236. We offered this coin previously in the Stack's sale of December 1999. Lot 1284, is an 1893 six-piece silver proof set of Great Britain in superlative grades (Proof-66 to Proof-67+ with Cameo or Deep Cameo contrasting surfaces).
Session C and D are the online only sessions which close at 3pm PT on Tuesday, November 4. These sessions are full of collectible types and the listings should not be missed.
As you receive the catalogs in the coming days, take a few moments in a comfy chair to peruse the material in the offing. Or view the entire sale online at StacksBowers.com. If you have any questions about bidding, need an in hand inspection, or would like to discuss consigning similar material, our expert staff at Stack's Bowers is on call to work with you, whether you are buying or selling. Either way, we look forward to hearing from you. As always, we wish you the best of luck in your bidding.