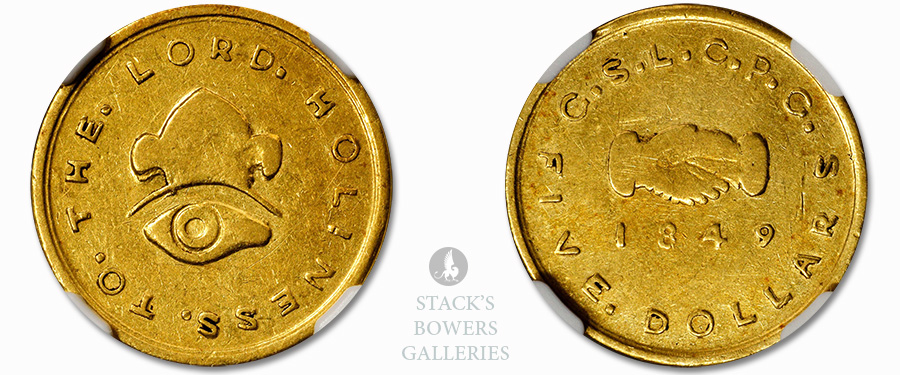 When the non-collecting public thinks of gold in 1849, they might understandably envision California, San Francisco's population boom, and bearded prospectors panning for placer gold in the waters of the American River. Fewer might think of Mormons settling in Utah, but as countless Forty-Niners made their way to the Golden State, those building around the Great Salt Lake were producing what would become a perennially popular series of territorial gold coins from 1848 to 1860. Stack's Bowers Galleries is excited to offer an attractive example of the $5 denomination bearing the date 1849, lot 5148 in the Official Auction of the Whitman Coin & Collectibles Winter Expo.
After settling in what would become Salt Lake City in 1847, the Deseret Assay Office struck coins from gold mined in California. Pieces were made in denominations of $2.50 through $20 and are dated 1849 through 1860. The coins feature text reading "HOLINESS TO THE LORD" encircles an eye of Jehovah which appears beneath a Phrygian Cap. On the other side, the characters "G.S.L.C.P.G." (which stood for "Great Salt Lake City Pure Gold") arcing around above a pair of clasped hands, with the denomination arcing beneath; the date appears below the hands and above the denomination. The obverse and reverse dies were used in the late 1890s to create uniface impressions.
The Kagin-2 example offered by Stack's Bowers Galleries received an AU-53 grade from NGC, placing it solidly in the middle of that service's census. AU-53 is tied for the largest number of certified examples in NGC's Census with AU-55; NGC reports ten examples in each grade.
This coin is described in our catalog as follows: "Handsome honey-olive color is seen on both sides. Remnants of a satiny to modestly semi-reflective finish are also worthy of note. Universally sharp in striking detail, a trace of rub and a few wispy handling marks are all that remain from this impressive condition rarity's short stint in commerce."
NGC's census reports 55 grading events for 1849 Mormon $5 gold coins in its Census, ten of which received the AU-53 grade. The Census reports 24 finer examples. PCGS reports 131 grading events, 11 of which are for coins assigned the AU-53 grade. ANACS reports four grading events, none of which are for coins in AU-53; the finest coin reported was graded EF-45.
View this coin and the entire Winter 2022 Expo Auction at StacksBowers.com. For more information on the sale or to consign to an upcoming auction, call 800-458-4646 or email [email protected].