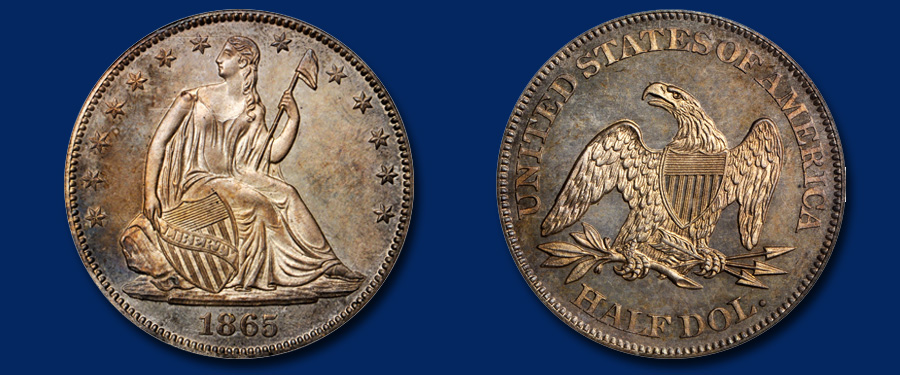 Stack's Bowers Galleries is pleased to present a memorable, premium Gem Proof-66 (PCGS) 1865 Liberty Seated half dollar with CAC approval in our upcoming Baltimore auction. Certified by PCGS in 1998 or prior, this coin is housed in a green label holder. In 1865, as the Civil War still raged, 500 Proof half dollars were struck for collectors. Only a small percentage can claim to be Gem Proof today only seven Proof-66 examples have been seen by PCGS with a single coin noted a point finer at the top of their Population Report. This condition rarity will be sold in our June 26-27, 2014 Official Auction of the Whitman Coins & Collectibles Expo at the Baltimore Convention Center from June 26-29, 2014.
The surfaces of this delightful specimen are silky smooth in texture without a single distracting blemish. Fully struck with reflective fields, the coin is handsomely toned in olive-gray and golden-apricot. 1865 is the last year of the No Motto type within the Liberty Seated half dollar series (excluding the 1866-S No Motto). In 1866, the motto IN GOD WE TRUST was added to the reverse of half dollars. If you are seeking a representative of either the date or the No Motto type, then look no further than this exquisite premium Gem.
Proofs were struck at the Philadelphia Mint for each year of the Liberty Seated half dollar series beginning in 1839 when this design was adopted through the final year of issue in 1891, save for 1851; no Proofs of that date are known today. Most of the early issues from 1839 through 1858 are rare to extremely rare. By 1865 regular sales of Proof coins to collectors had grown, with half dollar mintages ranging from several hundred to a thousand or so coins beginning in 1859 through the 1860s and later.
Looking to include your coins in one of our future auctions? Please call our offices at 800.458.4646 or me personally and I'll walk you through the consignment process. We are currently taking consignments for the American Numismatic Association World's Fair of Money auction to be held August 5-9, 2014 in Rosemont, Illinois, as well as for several other auctions. The June Baltimore auction will be available online as soon as cataloging and imaging is completed. If you would like to order a copy of this auction catalog, please call Auction Services at 800.458.4646.