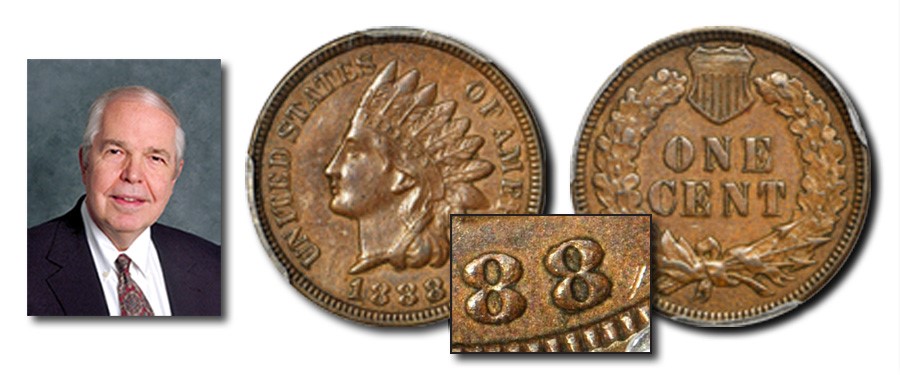 In 1969 Jim Ruddy purchased a
small cache of Indian Head cents found in an attic of a mansion in Virginia. These
had never been examined by a numismatist. Jim had been interested in die
varieties for a long time, and over a span of years had discovered several
remarkable items, one of which was a new die for the 1786 Date Under Plow Beam
New Jersey copper, a classic in that series.
Studying his newly acquired
group of Indian Head cents by examining them under low-power magnification, Jim
noticed that one bearing the date 1888 seemed to have traces of a 7 under the
last digit. Could this be? No one had ever heard of such a thing!
Jim placed the coin under a
microscope, and the small 7 became even more clear—and unequivocal. Although
Indian Head cents had been a popular series for many years, no one had ever
identified an 1888/7 overdate! He noticed that on the left obverse rim at the
9:00 position there was a "cud" break, caused by a piece falling out of the
die. Likely, this die had been retired quickly, accounting for the coin's
rarity. Marvelously, his coin was in Mint State.
Lo and behold, a few coins
later in the same collection, Jim came across another 1888/7, also in Mint
State! Keeping his discovery secret, Jim looked at every other 1888 cent he
could find, at shows and in several dealers' inventories. Not another piece
came to light. The announcement of the discovery was made in early 1970,
and Numismatic News, Coin World, The
Numismatist, and other periodicals described this amazing addition to the
Indian cent series.
Jim watched and waited to see
whether other coins, perhaps thousands (as in the case of the 1938-D/S nickel),
would be discovered. Few were. By 2006 only four Mint State 1888/7 were known,
including the two that Jim discovered which originally went to collector Robert
Marks and dealer Julian Leidman and, since then, have changed hands several
times.
Today, experts estimate that
500 to 600 specimens exist mostly in the low grades of Good and VG with some in
AU grades. In 2018 Stack's Bowers Galleries sold an AU-58 (PCGS) 1888/7 Indian
cent at auction for $26,400.
In 1958 Dr. William H, Sheldon
wrote in Penny Whimsy: "Competent students in the field have always
been hesitant to express an opinion on the rarity of a die because they were
aware of how easy it is to be mistaken. No one can ever know for
certain just how many examples of a particular variety exist, since
there is no way of canvassing an entire supply of cents in one lifetime."
Seeing is believing, but it may
not tell the whole story. If I attend a symphony and do not see Jones, he still
might have been there. It is just that he did not catch my eye. If in my yard a
visitor sees no wild deer, he cannot conclude that none are around, for the
next morning I may see five of them nibbling on the grass. First, if a coin is
actually seen, then it does exist. However, if it is not seen, it still might
exist. Today, there are many valuable coins that exist but are not known to
numismatists. Some of these will be discovered, to delight future generations.​