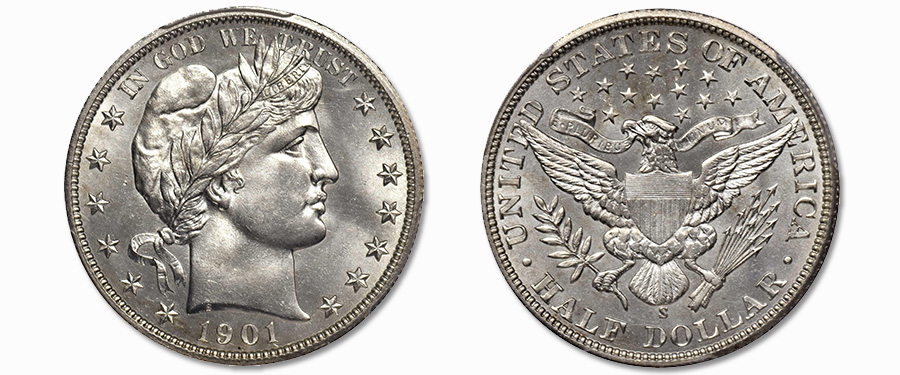 Among Barber half dollars minted from 1892 to 1915, the 1901-S is among the most challenging to find in terms of quality. Specialist David Akers noted, "the 1901-S Half Dollar is probably solidly in the top ten or so issues of the series in terms of both population rarity and condition rarity." The mintage was very modest, with just 847,044 pieces produced, and only about 2,000 coins survive in all grades. Across the entire series, only a dozen issues have a smaller mintage. At the highest levels, the 1901-S is quite elusive with only about 40 known in Gem condition. Any example at this level is a true prize for advanced specialists.
We are thrilled to offer an exceptional MS-65 (PCGS) from the Premo Collection as lot 4038 in our November 2021 Showcase Auction. It is a brilliant and untoned, with outstanding eye appeal. Striking quality is far above average for the type, with the overall detail full and the eagle's left shoulder and talon displaying emerging to bold definition. Satin to semi-reflective in finish and exceptionally smooth, this coin ranks among the finest certified survivors of this key date issue. Just seven coins have been graded finer by PCGS.
This Gem 1901-S half dollar is part of a nearly complete set of Barber halves offered from the Premo Collection, which includes several Proofs and many high-end Choice and Gem-quality pieces. For more information on this collection or to consign to a future sale, contact our firm at 800-566-2580 or email [email protected]. Stack's Bowers Galleries is now accepting consignments of U.S. coins and currency for our March 2022 Showcase Auction, while our monthly Collectors Choice Online Auctions offer a convenient venue for the quickest sale at the strongest prices.​