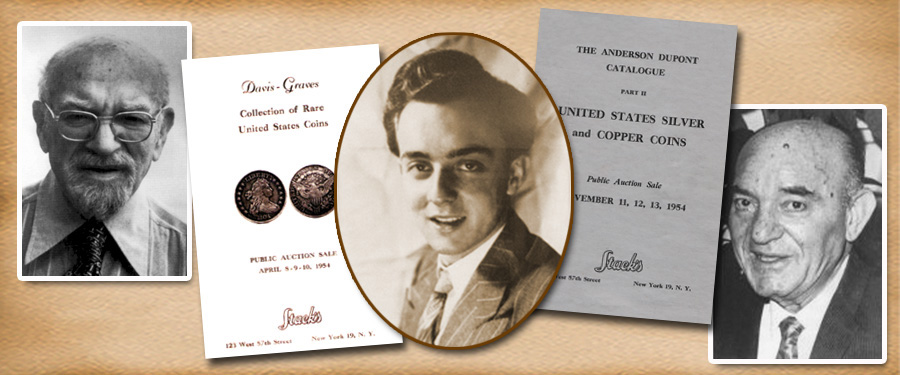 ​As I wrote in my article covering 1978, Harold J. Bareford was a connoisseur of premium rare coins. He was willing to wait until he could find the proper example that pleased his discerning eye and passed his personal evaluation. During the decades he collected, he looked for the finest, and when he found it, he competed heavily to add each special coin to his collection. He owned many coins with lengthy pedigrees, for he felt that those who collected before him, who cherished beautiful, and rare coins as he did, also shared his goal of purchasing superior examples. Quality, rarity, strike, magnificent toning, and great eye appeal were the guideposts he set for his cabinet. He was successful, as shown in his December 1978 sale, and he would be even more so in the second sale of his collection, which we at Stack's were pleased to present in October 1981. His greatest rarity was his Class I silver dollar, the "King of American Coins," known as the Dexter-Bareford specimen.
As one of the founders of the Metropolitan New York Numismatic Convention, he served as president for a number of years, and was the annual toastmaster at their concluding banquet. He encouraged new collectors old and young to see special exhibits and displays as well as attend lectures, to teach them more about numismatics. Harold J. Bareford earned the title of Dean of Metropolitan New York Collectors, a title he truly deserved.
Stack's October 1981 sale of his United States coins (along with a specialized selection of British coins) was so spectacular that it attracted buyers from all over the country, all trying to own a coin or two from this fabulous collection. There were just 626 coins in this part of his collection, and with such fierce competition, few were able to buy many. This sale, though small, set the stage for Stack's to receive consignments to auction from other landmark collections.
The United States portion offered a small but high quality group of 25 lots of colonial coins, and was followed by a prize winning set of U.S. half dimes, starting with 1794 and almost complete in Gem Mint State or brilliant Proof. Many of these had been acquired from the William Neil Collection, a landmark collection. Mr. Bareford loved the half dime and dime denominations as their lighter weight led to fewer impairments in the coins.
The dime collection started with the 1796 and was quite complete through to 1916. The quality and beauty of this offering inspired many collectors to start collecting this popular series. It featured Gems and great rarities that were pedigreed to Col. E.H.R. Green, Atwater. Neil, Allenberger, and others. The sale included a superb offering of pattern dimes, over 50 different, many of which had not been seen nor offered for decades. Following were offered twenty-cent pieces, and a selection of early and Liberty Seated quarters and half dollars , all outstanding examples.
The feature coins were then offered for sale. Harold Bareford, loved the early dollars from 1795 to 1804 and tried to assemble as many different dates and varieties as he could. Though these were made for such a short time, the Bareford catalog offered some 21 early dollars that attracted strong competition from bidders.
The highlight of the collection was the magnificent Class I 1804 silver dollar, a Proof that offered beautiful toning and a super strike. It had been purchased by Bareford in 1950, at a private sale. When sold in the October 1981 Bareford sale it realized $280,000. After the audience applauded the sale of the coin, the room calmed down and a group of exceptional Liberty Seated dollars was sold, including three Carson City issues. This concluded the U.S. coins portion of the sale.
The balance of the sale was dedicated to the offering of an outstanding collection of the coins of Great Britain, commencing in 700 B.C. and running to the early 1800s. Harold Bareford had been in the U.S. Navy, during the Second World War, and visited dealers and museums when he was off duty. He was attracted by the English coins, how the money of the Empire influenced all monetary units. He started to assemble some examples while overseas, and continued when he returned to America. He acquired coins in silver and gold, representing most of the Kings and Queens of England, and though he only had about 200 different specimens, his impeccable taste drew to New York a large assemblage of English dealers representing major collectors overseas. The auction for this collection of about 200 pieces took almost three hours and many record prices were established.