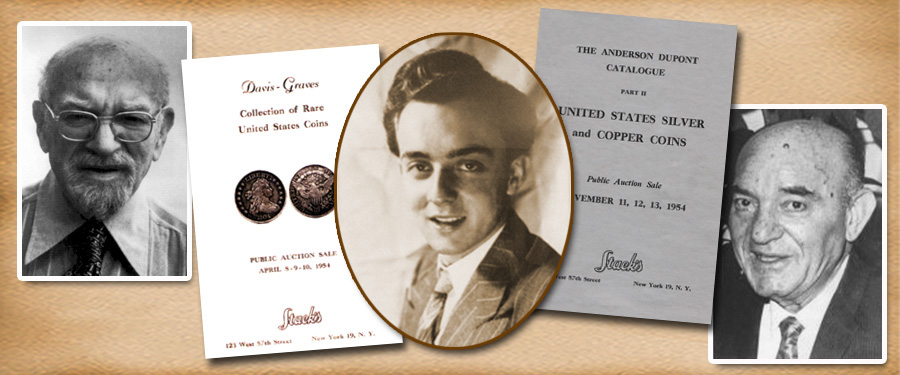 The year 1979 brought quite a few important public auctions. At the time, Stack's was the leading public auctioneer in the coin hobby, as we sold many of the major collections being offered. After Stack's helped to build their collections, many of our clients would give us the opportunity to "return their treasures" to the marketplace, for new generations of collectors to enjoy. In addition, our reputation was such that we were selected by banks, trust companies, colleges, universities and museums to assist in appraising their holdings and often selling numismatic material so that they could better finance their central purpose. The number of sales and rare coins we were given to sell at auction kept us busy during the year, and the "name" sales added to our reputation, bringing in even more consignments.
One such name collection was the fabulous Robison Collection of U.S. Gold Coins which we brought to market in January 1979. The formation of the Robison Collection was a family affair with Ellis and Doris Robison as partners. Ellis was a successful pharmaceutical distributor in upper New York State. He headed John L. Thompson and Co., of Troy, N.Y, one of the country's oldest wholesale pharmaceutical firms, which had served New England drugstores for close to two centuries. He was dedicated to education and had contributed for decades to colleges and universities in America. Many an athletic field, herb garden and foundations are named after him and his family. He was especially interested Cornell University, his alma mater, and in Rensselaer Polytechnic Institute. The proceeds of this sale were designated to benefit the cultural and athletic endeavors of these two institutions. 
To visit Ellis Robison in Troy was like turning back the clock, for the company occupied a huge red building on Main Street that looked just as it had a century before. Walking in, you found yourself in a large work room, surrounded by many desks, all open to the public. A large, waist high wooden gate stood between the office and visitors. The receptionist was the immediate greeter, who sat behind a phone board, which used the early "plug-in" system to transfer calls and to page people. The lighting was incandescent bulbs with lamp shades.
As a visitor, you were announced to Mr. Robison. When entering his office, which was almost as deep as the whole building, you found Ellis at a large mahogany desk, covered with papers, (orders and correspondence) and before his desk was a giant conference table where the Board would have meetings. Ellis was a wonderful host, always greeting me with a warm smile and conversation. He would ask what I had brought, as I was usually delivering the most recent group of coins he had won at one of our sales. His usual method for bidding would be to contact us by phone or mail to convey what he wanted, how much we should bid and to request that we carefully examine the coins to be certain that they would match the balance of his collection.
I enjoyed every trip I made to Troy. I would arrive by 10 AM, driving directly to Troy to meet with him. We would review and discuss the coins and at exactly 12 PM we left the office and went to the famous Troy Club for lunch. Ellis knew everyone who ate there, and he enjoyed introducing me as his special guest for the day, and telling them I was there to assist him while he built a major U.S. coin collection. We left the club by 1 PM and then continued to work through about 3 PM, at which time I would head home. Ellis wanted me to be able to drive in daylight as much as possible. While the story of Ellis Robison and how the Robison Collection was built is unique, Stack's involvement in helping collectors to build fine collections was not unusual. We were committed to providing our clients with excellent customer service and to building personal  relationships with them.
Ellis Robison had set a goal of trying to get one coin of each that was minted by the United States Mint, 1793 to date, including mintmarks. He wanted coins that graded from Very Fine to Mint State. While he also collected Proofs, if available, he liked coins that were made for circulation, for he was able to envision who might have used or owned it before him.
The January 1979 Robison Collection of U.S. Gold Coins had many highlights, including:
GOLD DOLLARS: A virtually full set, including 1855-D, 1856-D, 1861-D, 1870-S, and 1875.
QUARTER EAGLES: The set started with 1796, (both types), and featured 1797, 1808, 1841, 1843-C, 1848 CAL, 1856-D, and 1875. It was almost a full set.
THREE DOLLAR GOLD: Virtually complete, including 1854-D, 1875 and 1876.
HALF EAGLES: An extensive set, highlighted by 1795 Small and Large Eagle, 1796, a long run from 1807 to 1837, 1861-D and 1929.
EAGLES: Almost complete from 1795-1804, plus 1858, 1907 Rolled and Wire edges, 1920-S, 1930-S and other scarce and rare dates.
DOUBLE EAGLES: An almost complete set highlighted by 1862 Proof, 1870-CC, 1881, 1882, 1883, 1885, 1886, and 1887, together with 1920-S, 1926-S, 1926-D, 1927-S, 1930-S, 1931 and 1932.
Overall the sale contained 1,042 lots and was one of the most complete offerings of gold in 1979.