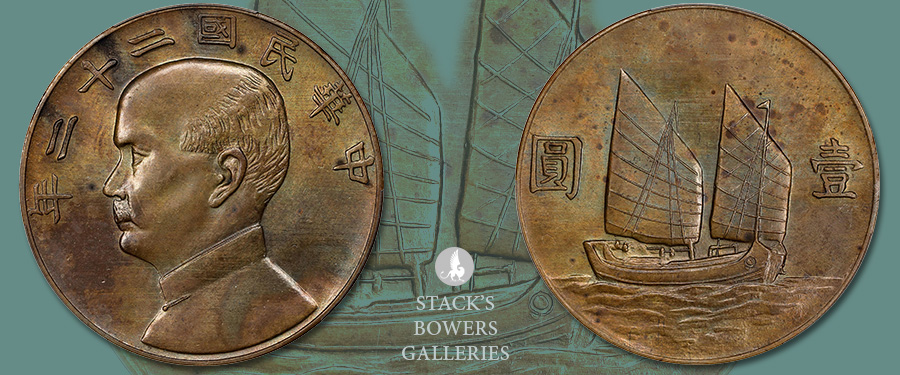 Lot 30248 in the upcoming Rarities Night session of the Fall 2023 Hong Kong Auction offers a true rarity from the Chinese series that comes to market but once in a generation. The only pattern struck in this composition across both major services, this piece represents a turning point in Chinese numismatic history. The original 1932 "Birds Over Junk" Dollar proved unpopular due to its alleged Japanese symbolism, and the denomination was redesigned to remove the birds and rising sun imagery. According to Eduard Kann, a member of the Advisory Mint Committee during this time, the silver versions of this issue dated to Year 22 were struck between June 1933 and May 1934, with the original dies prepared at the Philadelphia Mint. The off-metal strikes, in brass, copper, or other compositions, represent special presentation pieces of the adopted design. In general, Chinese off-metal patterns of adopted designs rarely appear on the market, especially examples from the most recognizable issues from the series. Given this and the exceptional Irving Goodman pedigree, we expect many excited bids for this specimen when it crosses the auction block in our October sale.
The October 2023 Hong Kong auction is available for viewing and bidding at StacksBowers.com. For more information about the sale email [email protected] or [email protected].
We are always seeking coins, medals, and paper money for our auctions, and are currently accepting submissions for our January 2024 Official Auction of the NYINC and our spring 2024 Hong Kong auction. Additionally, we are accepting submissions for our Collectors Choice Online (CCO) auctions. If you would like to learn more about consigning, whether a singular item or an entire collection, please contact one of our consignment directors today and we will assist you in achieving the best possible return on your material.