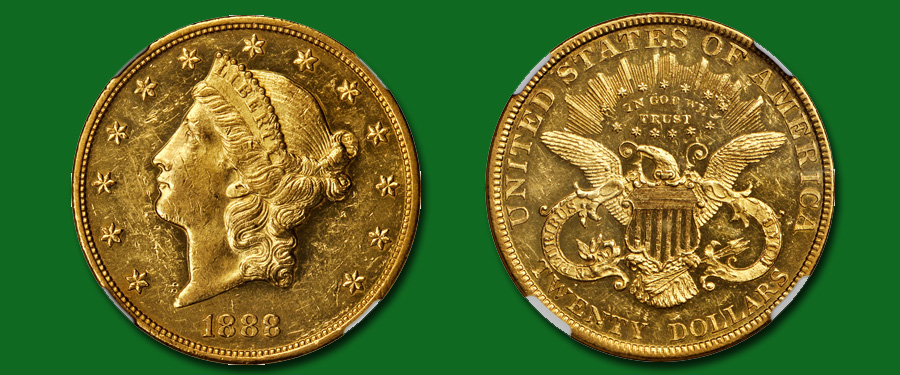 The United States $20 gold piece or double eagle spanned more than eight decades of production. James B. Longacre's Liberty's Head design inaugurated the denomination in 1850, providing a practical medium for converting large quantities of raw gold into coins to fuel the flourishing American economy and for use in international trade.  
Liberty double eagles have always been popular among collectors, with Proof issues representing the pinnacle of beauty and execution for the issue.  Proof mintage figures remained low throughout the entire production run, and few remain extant today. Of the original striking of 105 pieces for 1888, just 20 to 30 examples are known today, stressing the desirability of the present cameo specimen.   
The vibrant sunshine-yellow glow of this Proof rarity emphasizes the deeply mirrored fields on both sides. A satiny, matte-like luster blankets bold motifs; the strike is particularly sharp on the reverse design elements. The surfaces are free from distracting blemishes, contributing to the coin's appeal.
This 1888 Proof double eagle will be offered alongside a number of other jewels in our February 2016 Rarities Auction, held in conjunction with our third offering of the legendary D. Brent Pogue Collection. To consign your treasures to this sale, or any other of our auctions, please contact our offices today at 1-800-458-4646 to speak with a Consignment Director and see what Stack's Bowers can do for you.