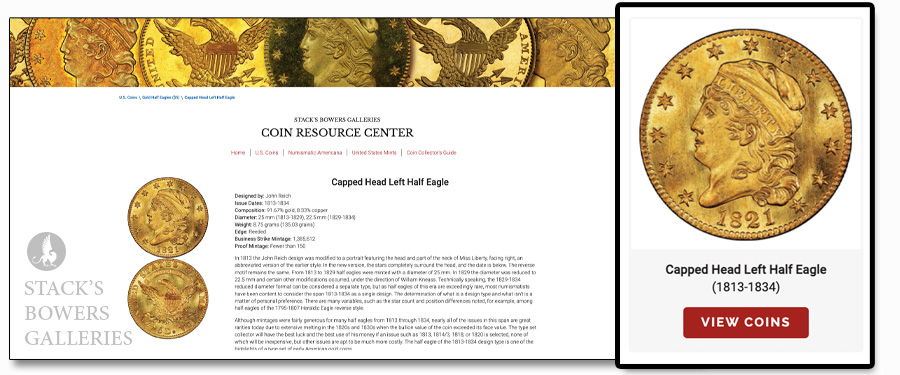 Stack's Bowers Galleries' Coin Resource Center is an evolving reference guide. It launched with entries comprising two complete series, the Walking Liberty half dollar and Morgan dollars, as well as a range of significant U.S. rarities; more content is being added regularly. For this blog, we'll take a look at a batch of recently-posted content, specifically entries detailing Capped Head Left half eagles. Studded with remarkable rarities, the Capped Head Left half eagle is a storied series.
John Reich was a German-born engraver who designed the Capped Bust motif which appeared on a number of U.S. denominations beginning in 1807. In 1812-1813, he modified his 1807 half eagle design, changing Liberty's portrait on the obverse while retaining the reverse's eagle motif more or less unchanged. Liberty's bosom and drapery were eliminated, and the stars moved to fully encircle the bust. Our CRC overview of the series describes the changes as "an abbreviated version of the earlier style."
From 1813 to 1815, the coins were struck in what is referred to by collectors as "Bold Relief."
The Mint produced no half eagles in 1816 and 1817. Reich's design remained in use until 1834, when it was replaced with a new design by William Kneass referred to as the Classic Head motif. The coin's diameter, however, was reduced after 1829 from 25mm to 22.5mm.
Though mintages of several dates were relatively large, extensive melting in the 1820s and 1830s wiped out significant portions of the original production, making rarities of many dates in the series. None of the dates in the series are particularly accessible and the 1815 and 1822 half eagles are both significant rarities. Five-figure prices are the norm, especially for coins with only moderate wear, and six-figure prices and higher have been realized; Stack's Bowers Galleries auctioned the Eliasberg-Pogue example of the 1822 half eagle for $8.4 million in 2021. Ex-jewelry, damaged, cleaned, or otherwise problematic coins regularly sell for thousands. Collectors interested in approaching this challenging series can make use of the Coin Resource Center to familiarize themselves with its various issues. Like other sections of the CRC, the Capped Head left half eagle section features an overview of the series and individual entries on each date including major varieties.