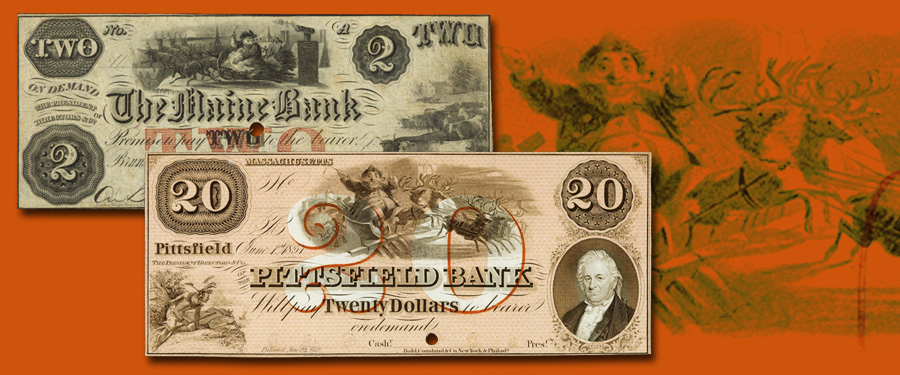 It's hard to believe but December is here already and another year is quickly coming to an end. For many this month means that the Christmas Season is upon us; a time for peace and joy, reflection on the year that's soon to pass and hope for what could be in the year ahead.
As currency specialists, this season reminds us of some of the special notes our great hobby has to offer, the ever popular Santa Claus notes.
During the time when private banks issued their own circulating paper money (which we commonly refer to now as obsolete banknotes), banks would often choose vignettes for their notes which would promote good will toward their institutions. Several banks chose vignettes with various depictions of Santa Claus.
Some vignettes showed the jolly old elf in the traditional sense we think of today, a fat man with a beard in a sleigh pulled by reindeer. Some depicted a much slimmer Santa while others made him appear more like an elf from his workshop.
A number of banks issued these notes and we have been fortunate to offer several of them over the years. Among them is a 1862 dated $2 note from The Maine Bank of Brunswick, Maine, which sold for $7,050 in our June 2014 Baltimore Auction.
In our November 2014 Baltimore Auction a $20 color proof from The Pittsfield Bank of Pittsfield, Massachusetts also featured a Santa Claus vignette. That example realized $4,993.75.
All obsoletes featuring Santa Claus vignettes are scarce today. They are highly prized by collectors and hotly contested when offered at auction. Prices run from the lower four-figure range for some of the more common notes in affordable grades to the mid five-figures for the rarest and highest quality notes.
We are currently accepting consignments to upcoming auction events in 2016. If you are interested in consigning, or have a currency related question please call 1-800-458-4646. You may also email Currency Specialist Brad Ciociola at [email protected] or Director of Currency Peter Treglia at [email protected]