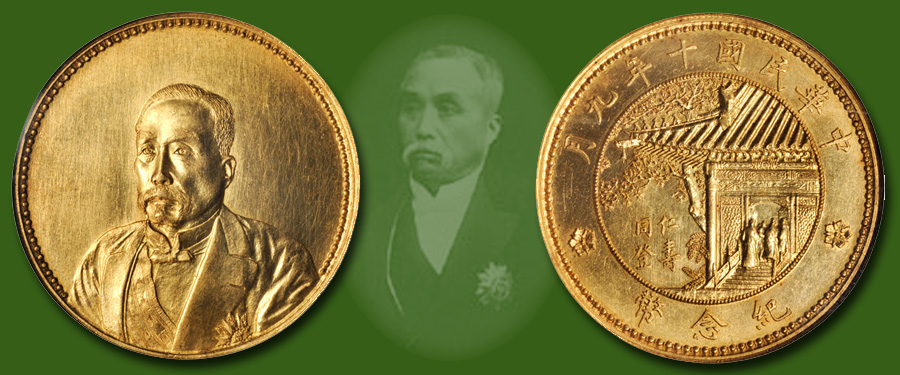 For our next August Hong Kong preview we have a very rare gold commemorative coin from China's Republic Era. This coin was struck in the tenth year of the Republic of China (1921). It commemorates the fifth president of the Republic of China, Hsu Shih Chang, who held the longest presidency during the chaotic warlord era. As Yuan Shih-Kai's closest friend and Premier (akin to Secretary of State) Hsu Shih Chang was integral to the early Republican government. Hsu resigned as Premier to protest Yuan Shih-Kai's attempt to revive the monarchy and place himself as emperor. Once Yuan abandoned his Imperial ambition Hsu resumed his post as Premier. Hsu was president from 1918 to 1922 and also holds the distinction for being one of the few civilians to become President during this era.
To commemorate the third year of his tenure as President, Hsu Shih Chang commissioned the Tientsin Mint to strike souvenir silver coins in his image. A limited number were struck in gold and presented to high officers of state. Two varieties exist, one with a lower inscription and rosettes and one without these items.  The variety we showcase here is the type with the rosettes and lower legend. The obverse design features a prominent portrait of Hsu Shih Chang in civilian clothing, facing three quarters left. The bust appears very regal and noble. The reverse design features an elaborate pavilion scene which shows four attendants filing up the steps into the building. To the left of the pavilion four Chinese characters are inscribed which read: "Benevolent Birthdays always continue". The upper legend (also in Chinese) displays: "Chinese Republic, tenth year, ninth month". Rosettes delineate the upper legend from the lower, and the lower three characters designate this as a "Commemorative Coin". This coin bears a reeded edge, and is an excellent example of this rare type, having received a grade of Mint State – 63 from NGC. This stunning coin is just one of the many coins that we will be showcasing here on our blog, so be sure to check back next week for more exciting Asian coin highlights!
Look for this and other Asian numismatic rarities in our upcoming August Hong Kong Showcase Auction and Sale. Preview this impressive medal along with the rest of our auction this July and August at the Stack's Bowers and Ponterio office located in Irvine, California. For details please refer to the Events Calendar link at www.StacksBowers.com. To schedule an appointment, please call 800.458.4646. Our Stack's Bowers and Ponterio August Hong Kong Showcase Auction is still open for further consignments of Asian coins, and our 2014 August ANA World's Fair of Money Auction and sale is still taking consignments of world and ancient coins as well. Time is running short, so if you are interested in consigning your coins and paper currency (whether a whole collection or a single rarity) be sure to contact one of our consignment directors.