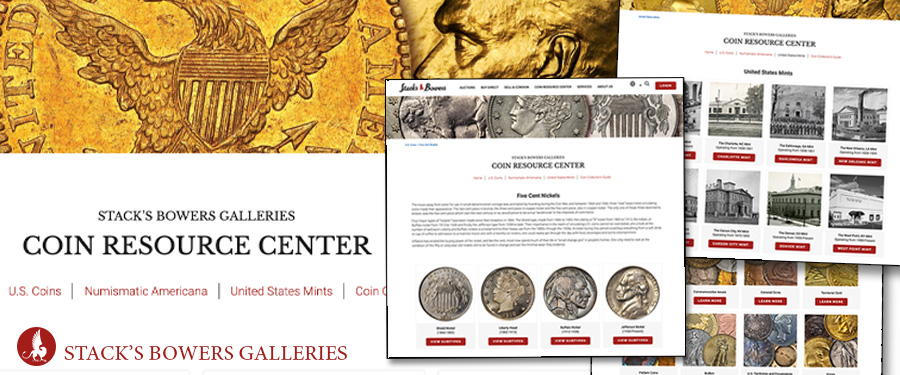 For relatively inexperienced collectors or those new to a series, the Internet can be a daunting place. Fact and fiction swirl together and are sometimes indistinguishable, especially for the uninitiated. Understanding the "advertising-speak" used online can require time and intensive study of a given series.
To help collectors build their knowledge and make informed purchases, Stack's Bowers Galleries launched the Coin Resource Center on July 26. The CRC is an online database which covers U.S. coins and Mint facilities, and also includes melt value calculators for popular precious metal coins and a guide to physical cryptocurrencies (including Bitcoin). While it may not be a substitute for years of research and collecting experience, it harnesses the collective experience and numismatic knowledge of Stack's Bowers Galleries' world-class staff and distills the firm's 90 years of service to the collecting public into a useful guide to United States coins.
Entries are organized by denomination, date and mintmark and feature technical data, expert commentary, high quality images, and discussions of key dates. With an intuitive interface and links to recent auction results for each coin covered, the CRC can help collectors learn about any coin in a given series and get a sense of the market. The CRC launched with around 250 coins including significant American rarities and the complete Morgan dollar and Walking Liberty half dollar series. More will be added in the future. If a blog visitor has one of the listed coins, there is a link to contact our staff.
The CRC is an evolving service; if experienced collectors or researchers find inaccuracies, we encourage them to contact us, and the entries will be updated appropriately. You can read more about the Coin Resource Center here.