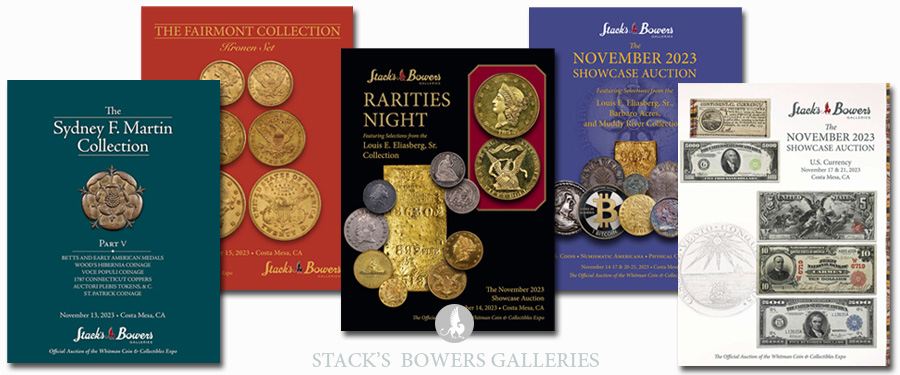 We at Stack's Bowers Galleries are eagerly anticipating our November Showcase Auction, scheduled for November 13-17 and 20-21 in Costa Mesa, California. The sale offers an outstanding array of coins and currency from many consignors, including:
· The Louis E. Eliasberg, Sr. Collection: Includes a handful of exquisite rarities from "The King of Coins."
· The Dr. William M. Aden Collection: World-class U.S. gold coins, spanning the 1790s through the beginning of the 20th century.
· The Barbaro Acres Collection: Includes high grade rare date gold dollars and trade dollars.
· The Martin/Yuen Family Collection: Includes an exceptional grouping of Proof Morgan dollars.
· The Olds Collection: Focused on colonial and early federal coins alongside Civil War-era gold coins.
· The Fairmont Collection – Kronen Set: An extensive array of half eagles, eagles, and double eagles of exceptional quality and originality.
· Muddy River Collection: An astounding specialized die variety set of Massachusetts silver coins covering the Willow Tree, Oak Tree, and Pine Tree issues.
· The Sydney F. Martin Collection Part V: Featuring Betts and Early American medals, Wood's Hibernia coinage, Voce Populi coinage, 1787 Connecticut coppers, Early American tokens, and St. Patrick coinage.
· The November U.S. Currency Showcase Auction: Highlights include Colonial Currency, Obsolete Bank Notes, large size type rarities, and National Bank Notes.
·      The November Auction of Physical Bitcoin and Cryptocurrency: Offering two impressive sessions.
All lots are available for viewing and bidding at StacksBowers.com. For more information or to learn about consigning to one of our sales call 800-458-4646 or email [email protected].