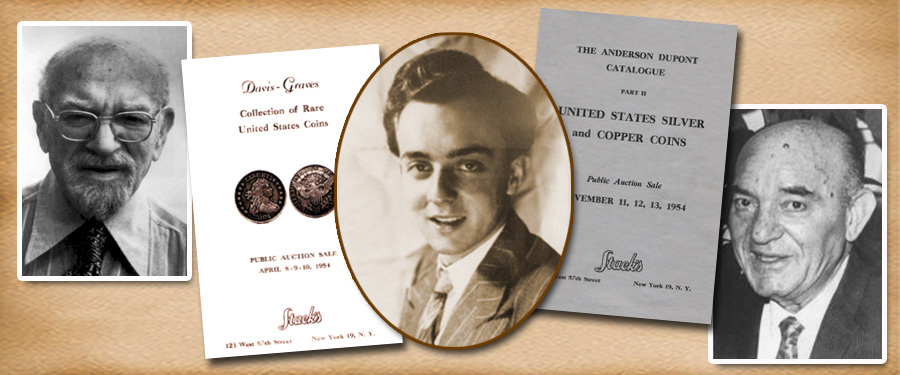 Stack's 1979 auction season continued with a celebrated collection of ancient Roman and Greek coins. This sale included 1,499 lots gathered by Dr. John A. Sawhill that had been given to James Madison University. Dr. Sawhill was a teacher of ancient history who collected pieces that represented his specialty. Central to the offering was 256 coins that the doctor had purchased from our Massachusetts Historical Society sale in 1971. Many of the coins from the Sawhill Collection found their way into major collections.
In March 1979, Stack's was selected by the Charlotte Mint Museum to sell their duplicate gold coins, those from the original collection as well as others that had been given to them. These were sold in order to refurbish and re-build their museum with newer and more educational exhibits. This was typical of many institutions that exhibited the coins that were appropriate and sold others so that they had funds to attract visitors and supporters and increase educational programs. This sale featured about 800 lots and attracted many collectors of Southern Mint gold.
In May Stack's was again the Official Auctioneer for the Metropolitan New York Numismatic Convention, as we were for many years. The sale presented 1,123 lots of classic United States coins in all metals, as well as paper money and ancient and world gold, silver and copper issues. As was preferred for these convention auctions, the sale offered something for everyone and attracted hundreds of active bidders.
Our June 1979 public auction offered gold coins of the United States, with 848 lots of choice and rare gold coins as well as an addendum that featured some early Proof sets issued prior to 1915, rare patterns, and rolls of coins The highlight of the sale was an extremely rare Saint-Gaudens MCMVII Ultra High Relief $20, an item almost never offered at public action. The audience applauded when it sold for $220,000. Also of note were 1920-S and 1930-S eagles and a nearly complete set of double eagles, including a very choice 1854-O, as well as examples of the 1856-O, 1881, 1882, 1883, 1884, and 1885 in Proof. Saint-Gaudens double eagles featured almost all the rare date mintmarks from the 1920s through the 1930s.  The quality of the pieces was exceptional, as the consignor had been a true connoisseur who was willing to wait for the coins that satisfied him.
In the summer, Stack's was proud to partner with other important numismatic dealers in a novel auction experience. As noted in a previous article in this series, Stack's and others had become frustrated with the process that they were required to go through to present the annual ANA Convention sale. Instead, four leading firms – Stack's, RARCOA, Paramount, and Superior joined together in the "Apostrophe" auctions, the first of which, Auction '79 was held in Bridgeton, Missouri, in July before the ANA Convention, scheduled that year for St. Louis.
Each company was to consign to the sale 500 lots, hopefully to include rarities and high grade coins. Each company would catalog their own lots  and send them to David Akers to organize, photograph and prepare them for printing. The companies would submit their mailing lists to an independent mailing house, who would compare the names and mail a single copy of the catalog to each potential buyer. The sale was very popular and there turned out to be almost 1,000 active bidders.
Clients would send in bid sheets, they would be given a bidder number and their bids would be entered under the name of whichever company the clients wished to have represent them. It was careful and confidential work, as many wanted their favorite company to bid for them. As all four firms had a great deal of experience, this was accomplished with no difficulty.
The sale presented a large selection of very choice and rare coins, from the colonial period, through standard coinage, copper to $20 gold, as well as territorial issues. Original pre-1915 Proof sets were also offered. The viewing room, two days before the sale was crowded and many waited in line to view the lots. The auction was held in four sessions over two days, with the auction companies providing food between the sessions. It was a great numismatic event, with a very friendly crowd of dealers and collectors that were attracted by the quality of the lots being sold. The joint offering was so successful that the dealers involved agreed to have another combined summer auction in 1980.