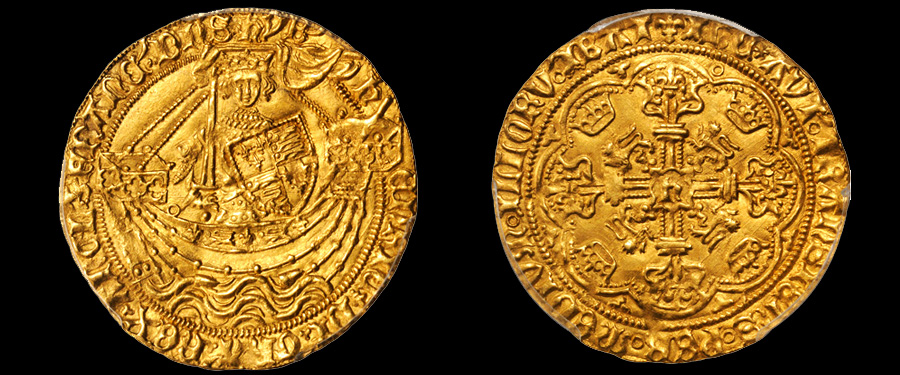 Our preview of our upcoming Official Auction of the Whitman Coin & Collectibles Baltimore Expo continues with a lovely Henry VI Noble. This exquisite Annulet issue is housed in a PCGS MS-63 holder, and is pedigreed to our Stack's sale of December 1999, lot 368. This Noble was issued by King Henry VI, who is known to history for his debilitating mental illness and the commencement of the War of the Roses, a dynastic conflict that lasted over 30 years with the Houses of York and House of Lancaster as the primary combatants for the throne of England. The end result was the Lancaster victory and Henry VII ascending the throne and establishing the Tudor Dynasty. King Henry VI's rule was dictated by regents (he assumed the throne while still an infant) and later by his wife, French Margaret of Anjou. Despite this, history remembers the king as a pious if unfortunate monarch.
This coin displays a large motif of the King standing facing on a ship, crowned and holding a sword and shield. The reverse design shows an "h" at the center of an ornate cross, with alternating crowns and lis within eight arches. Lions appear in each of the four corners of the cross.
Look for this and other world and ancient numismatic rarities in our upcoming Official Auction of the Whitman Coin & Collectibles Baltimore Expo. Preview this impressive coin along with the rest of our auction this October at the Stack's Bowers and Ponterio office located in Irvine, California. For details please refer to the Events Calendar link at www.StacksBowers.com. To schedule an appointment, please call 800.458.4646. Our Stack's Bowers Galleries October/November Baltimore Auction is still open for further consignments of PCGS and NGC certified world coins. We are also currently taking consignments of ancient and world coins for our January 2015 New York International Auction and our inaugural December Macau Showcase Auction of Asian Coins and Currency. Time is running short, so if you are interested in consigning your coins and paper currency (whether a whole collection or a single rarity) be sure to contact one of our consignment directors.