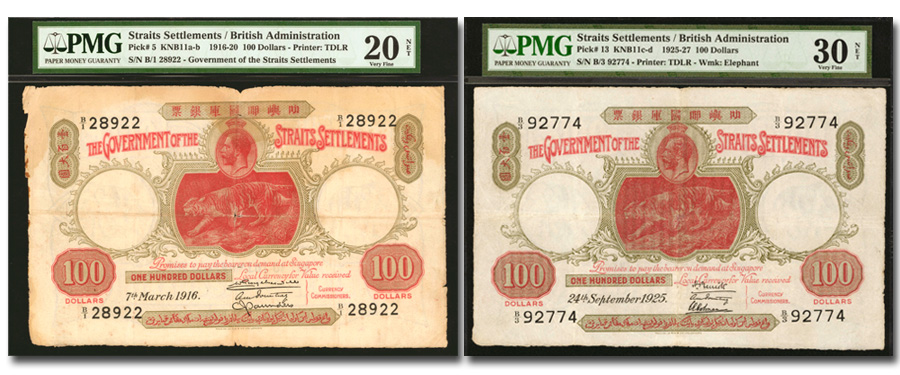 With our January New York International Auction just a
couple months away, we are excited feature two different 100 Dollar notes from
the Straits Settlements. One is Pick 5 which represents the first King George V
1916-20 Series, the other is Pick 13 which represents the 1925-30 issue. Both
uniface pieces are in excellent condition for their types, and offer collectors
an important opportunity to  acquire the
earliest date of each series.
The Pick 5 TDLR example is Extremely Scarce. B/1
Block. Serial Number 28922. This is only the second time we have handled this
coveted note in our history. The 1916 date is the earliest and most desirable
for the type. This piece displays a small profile vignette of King George V at
top center with prowling tiger below, both in attractive red. Two
"100" counters are on each of the bottom sides. The note is a little
jagged around the edges, but it is nearly impossible to find in much better
condition. All pertinent detail of this exquisite piece remains. PMG mentions
Stained in the comments section of their VF 20 Net holder. A rare example.
The other note, Pick 13, is also the first date for
its respected series. It has virtually the identical design to the first note,
but in a quite large format with an open design showing a small profile
vignette of King George V at top center with prowling tiger below. Four large
serial numbers are seen at the corners along with printed date and signatures. The
inks are attractive throughout with pleasing detail considering the grade.
There are only with a few areas of rust mostly on the blank back. Largely
watermarked paper with elephants at left and right watermark fields with denomination
and "Straits Settlements." PMG mentions Retouched in the comments section
of the 30 Net holder.
For more information regarding these highlights, or to
consign to future sales, please contact [email protected]. For questions regarding bidding, or registering for
participation in our auctions, please contact [email protected].