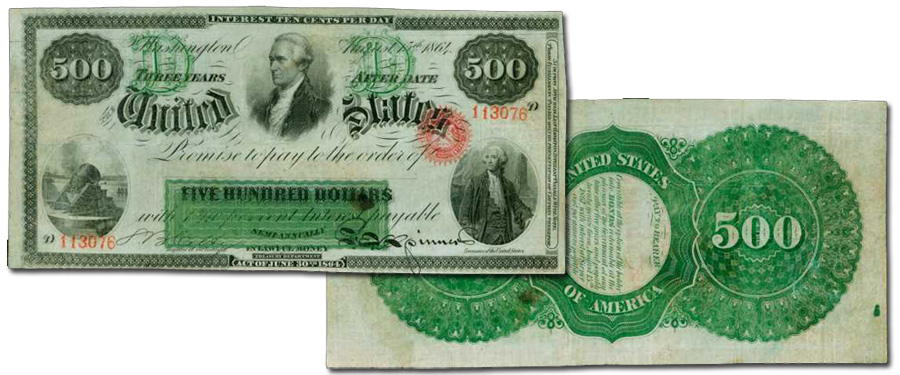 Stack's Bowers Galleries' upcoming official currency auction of the Whitman Coin & Collectibles Winter Expo will feature an extremely rare 1864 $500 Interest-Bearing Note. The note, dated August 15, 1864, is unique for the catalog number, both in government institutions and in private hands. Interest-Bearing notes of denominations from $50 to $5,000 were printed as early as 1861. The $500 Interest Bearing Treasury notes bore interest at the rate of 7.3% per year, for three years, and were a result of financial instability in the country caused by the Civil War. The design features Alexander Hamilton at center, and a standing figure of Washington at the lower right. Signatures of Colby and Spinner and the Treasury serial numbers are printed in red.
The $500 note was authorized by the Act of June 30,1864, which allowed owners to transfer these bonds to other individuals. The light pink stamp on the reverse reads "…Of the Treasury For Redemption Vermilye & Co." We cannot quite make out the top line, however. Vermilye were primarily bankers, brokers, and dealers in government loans, stocks and bonds. While we do not know the original payee, we do know because of this stamp, the note was transferred to another owner at one time.
One of the provisions in this act made this bond legal tender at its face value if the owner could find anyone who would accept it. It was denominated in legal tender U.S. currency. A $1 Legal Tender note could be worth between 40 to 70 cents in gold coin. However, in 1879 when specie payments were resumed, the value of legal tender returned to par with gold and this bond could be exchanged for $500 in gold coin.
The obligation on the back reads "Convertible at the Option of the holder into bonds redeemable at the pleasure of the Government at any time after five years and payable twenty years from August 15, 1867 with interest at Six per cent per annum payable annually in COIN."
The coupons have all been removed. The seal remains bright and the overprints are a strong green. Areas of light restoration can be seen, primarily at the top and left margin only and appear to be tears that have received well executed repair work. PMG has graded the note Very Fine 25 Net, Restoration, Ink Lightened.  The "Ink Lightened" is most likely the result of the payee being removed by a light washing many decades ago.
The very existence of this note is remarkable, as the only other known type for this series, a Fr. 212f that last sold in an auction in 2005, was heavily punch hole canceled and redeemed. That note must have escaped mutilation from inside the Treasury, leaving this example as the only unredeemed/uncancelled example known to the collecting community, with none known in private hands or institutional collections. The note being offered comes with an impressive pedigree having been once owned by both William Philpot and Phil Lampkin. It has been off the market since 1971. This is an incredibly rare piece of financial history and an item that will be a centerpiece in any collection. The note, lot #30256 in the auction, carries an estimate of $300,000 to $500,000.
The Stack's Bowers Galleries official currency auction of the Whitman Coin & Collectibles Winter Expo will be held November 5th and 9th and features 839 lots of United States currency from a number of genres. The auction is now online and open for bidding at www.StacksBowers.com. We are accepting consignments to our 2016 auction events. To include your items, contact a consignment director at 800-458-4646 or visit our website at StacksBowers.com. For currency questions please contact Brad Ciociola at [email protected] or Peter Treglia at [email protected].