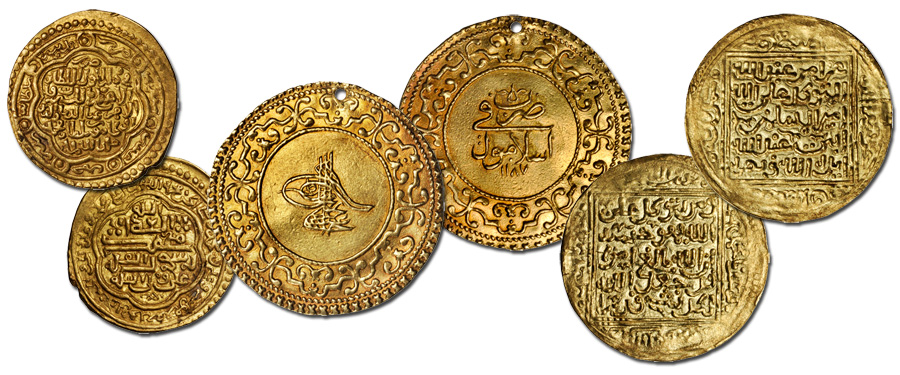 Though the live sessions of the Stack's Bowers 2015 Chicago ANA Auction close on Friday are still many numismatic opportunities to be found in the Internet-Only Session. Ancient coins, world coins and medals can all be found in the Internet Session D, starting Monday August 17th at 10:00 AM PT. A plethora of hidden treasures can be found here, such as a remarkable collection of Islamic Kingdoms gold coinage.
Over 80 gold coins are featured, fully imaged and organized by the issuing kingdom. Some of the highlights from this group include Lot 33392, a Ziyanid AV Dinar (A-518), Lot 33428, an Ilkhan AV Dinar (A-2186) and Lot 33440, an Ottoman 3 Altin (KM-634). It is a wondrous sight to see so many exotic gold pieces from half a world away (and in some cases centuries to a millennia in the past). Our company is very pleased when a long-time collector approaches us to assist in passing a treasured collection on to a new group of collectors. Through this process numismatic treasures are shared across the coin collecting society, simultaneously enriching the knowledge base and allowing for more cosmopolitan collections.
Look for this and other world numismatic rarities in our upcoming August ANA World's Fair of Money Auction. For details please refer to the Events Calendar link at www.StacksBowers.com. Though our Stack's Bowers August ANA World's Fair of Money Auction is no longer open for consignments, we are accepting consignments of world and ancient coins for our November Baltimore Auction and the January New York International Auction as well as Chinese and other Asian coins and currency for our December 2015 Hong Kong Showcase Auction. Time is running short, so if you are interested in consigning your coins and paper currency (whether a whole collection or a single rarity) be sure to contact one of our consignment directors.