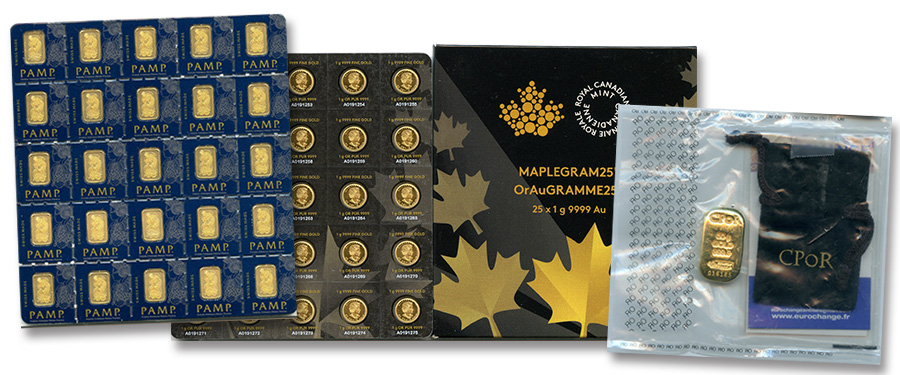 ​Less Often Seen Gold Bullion
This week in the store we purchased some less often seen gold bullion.  One of the interesting aspects of investing in gold bullion is the various ways that the bullion is produced for sale.  Of course there are the basic one ounce bullion coins from the United States, Canada, South Africa or China – these account for the vast majority of bullion sales.  But aside from the basics, there are gold bars ranging in size from one gram to one kilogram or more. They can be stamped as coins are or poured into molds and cast.  
This week we purchased some sheets of 25 one gram bars and one gram Maple Leafs,  which are perforated so you can break them off into little sections, preserving the assay card of each individual gram.  They do sell for a premium over more generic gold bullion, but they are so adorable that you just can't resist.  This is a wonderful way to round out an investment in the yellow metal.  Another nice gold bar we bought is a poured bar from CPoR devices that sells for the same premium as a more generic stamped bar.  As a poured bar that is hand stamped, each one will be a little different, as opposed to minted bars that are all exactly the same.  Again, this is a creative way to add some diversity to your holdings. Stop by the New York store to see what we have in stock, it changes daily!