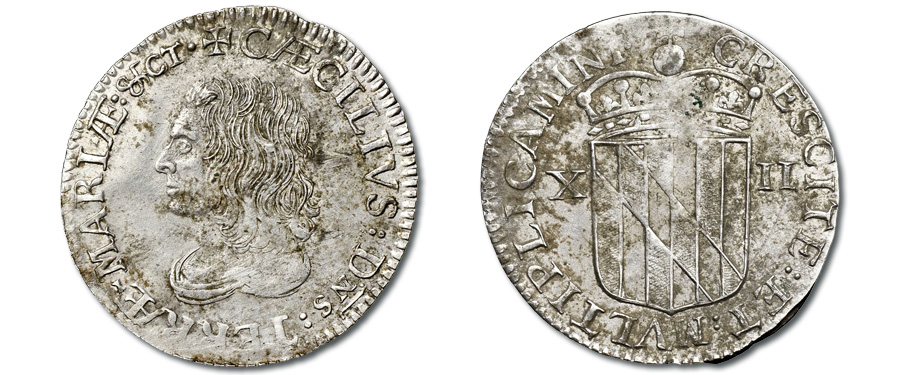 Stack's Bowers Galleries is proud to offer a newly discovered 1659 Lord Baltimore shilling in our November 2021 Showcase Auction. It will be presented alongside an incredible selection of Early American coins in our official auction for the Colonial Coin Collectors Club, better know as C4. With bold AU definition, this new discovery is certainly one of the sharpest Baltimore shillings known. Generally untoned and dove-grey, it exhibits scattered regions of olive patina on both sides. Significant marks are minimal, with only minor friction noted in the obverse fields. It was virtually brand new when it entered the soil over 400 years ago, and the portrait detail including the eyes, hair, and profile are truly astounding. It is a very pleasing example of an elusive and historic issue, coined for Sir Lord Baltimore Cecil Calvert to circulate in his proprietary colony of Maryland in the early 1660s.
Lord Calvert had shillings, sixpences, groats (four pence), and copper pennies (or denariums) coined bearing his bust and Arms and passed local ordinances in Maryland calling for their mandatory circulation. While sixpences often survive in decent grade (thanks in part to a hoard of about 20 pieces located in England in the last decade), the shillings rarely fared so well. Today, most shillings are in poor condition, often holed and plugged after use in jewelry, badly polished, well-worn, or a combination of the above. This incredibly sharp AU specimen is certainly among the most desirable available to collectors.  It was discovered near Suffolk, Virginia just months ago by a passionate metal detectorist John Lambert, who goes by the moniker Digologist on YouTube. Eager to share the story behind this exciting find, he explained that
"I have been hunting since 2012 and started out on local beaches finding rings and lots of dropped change. On a late summer day, I and a few friends were hunting a farm field in Suffolk, VA that has produced Civil War relics, Barber silver coins, Mercury dimes and even Spanish reales. I was digging everything that sounded promising and soon got a tone on my Minelab Equinox detector. I leaned back and saw a large round silver disc gleaming in the sunlight. My heart jumped and I got on the radio: "Guys, I got silver!" Staring back at me was a bust I had never seen. As I passed the coin around nobody could identify it, so we went to our phones and a couple minutes later we identified it as a 1659 shilling. It was a find of a lifetime and the oldest coin I had ever unearthed in almost 10 years of metal detecting. Our history may be brief in America, but we have an abundance of Colonial Artifacts just below our feet."   
The details of the discovery were also documented in a YouTube video that can be viewed here.
This newly discovered 1659 Lord Baltimore shilling will be showcased in the C4 session of our November 2021 Official Auction of the Whitman Coin & Collectibles Winter Expo, offered alongside important collections of Early American coins including rare Bolen tokens and struck copies from the E. Pluribus Unum Collection, New Jersey coppers from the Norm Peters Collection, and Fugio coppers from the Pierre Fricke Collection.  For more information on this auction or to consign your numismatic treasures to a future sale, contact our firm at 800-566-2580 or email [email protected]. Stack's Bowers Galleries is now accepting consignments of U.S. coins and currency for our March 2022 Showcase Auction, while our monthly Collectors Choice Online Auctions offer a convenient venue for the quickest sale at the strongest prices.