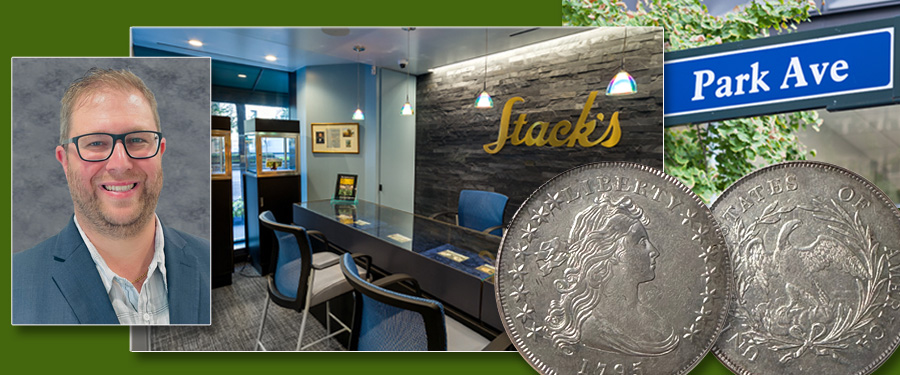 Autumn has arrived in Midtown as the air is brisk and mums line the flowerpots of Park Avenue. As it becomes more difficult to spend time outdoors, we invite you into our New York Gallery to buy, sell or consign your numismatic treasures to auction. Our Manhattan store has offered clients a complete numismatic resource center for many decades. You can contact us at 212-582-2580 or [email protected] to set up an appointment or you can just stop by at 470 Park Avenue between 57th and 58th streets!
This week, the numismatic spotlight lands on Senior Numismatist Greg Cohen. Greg told me about a collection he recently had consigned to auction by a long-time client of his. This relationship started a few years back at a local coin show in Greg's home state of New Jersey. The SBG New York location encompasses a scope of the numismatic market and community well-beyond Park Ave. This past July, Greg was saddened to hear of the passing of this numismatic friend. And then, a couple weeks back, Greg received a call from the family stating they were left a note instructing them to bring the collection to no one other than Greg Cohen. Greg made sure to take special care of them by assisting them with consigning to our Spring 2024 Showcase Auction. Stack's Bowers Galleries provides unmatched client service, which is what we take the most pride in. We are committed to offering fairness and transparency, as well as a proven path to maximizing your collection's value.
The James DeAngelis Collection will be highlighted in our Spring 2024 Whitman Expo Auction. The collection can be best described as an American numismatic ensemble of high quality, early type coins ranging from early coppers to Flowing Hair and Draped Bust dollars including all denominations in between. Many of the coins display lovely toning, while others feature pristine blast white surfaces. Plenty are CAC approved with some receiving the elusive gold CAC sticker. Greg and I share a favorite from this fine collection: the 1795 Draped Bust dollar housed in an Old Green Holder with a gold CAC sticker. The superb originality and luster of this piece are highly advanced for its assigned grade of EF-45. I, Greg, and other experts here at the New York gallery call it a Choice AU specimen. Please check out stacksbowers.com to register and bid in this auction and many others. Also, please give us a call today to consign to our Spring 2024 Showcase Auction as we will be taking consignments through January 25, 2024.