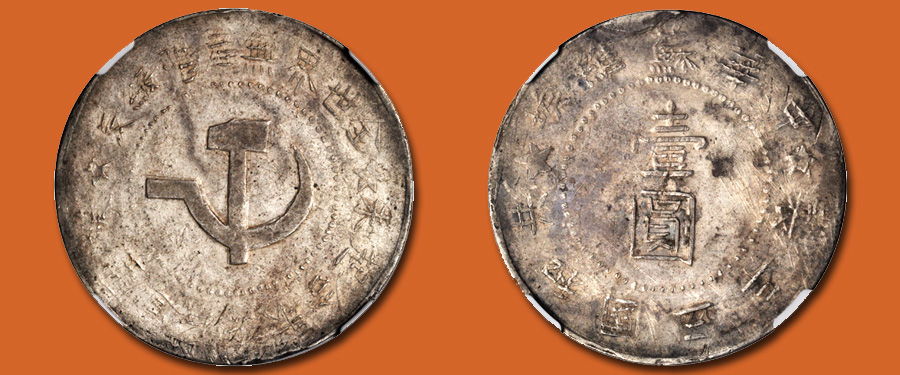 The Stack's Bowers and Ponterio August Hong Kong Showcase Auction is just over a month away and as the catalogs prepare to ship we feature another fantastic rarity. The communist forces of China first began in 1927 with the establishment of the first soviet, the Hailufeng Soviet. As the communist army grew in power and influence they began to establish banks. These banks were mobile and would travel with the armies as they warred with the Kuomintang (nationalist forces) under Chiang Kai-shek. In total six Soviets were established from 1927 to 1933, one of them being the Shensi-North Soviet. This coin type was issued after the retreat by the Red Army known as the Long March, which took place in phases from October 1934 to October 1935.
                The obverse design for this piece bears an attention-grabbing motif. The outer Chinese inscription loosely translates to: "Rise and unite the proletariat and the oppressed nations of the world!" This inscription appears around an image of the classic Communist hammer and sickle. The reverse design displays an outer legend which translates to: "Minted in the fifth year of the Chinese Soviet Republic." Two five-point stars separate the outer inscription. A solitary border separates the outer legends from the central inscription – two Chinese characters that state the denomination of "One Yuan" (or One Dollar). This type is unlisted in many major references and missing from many major collections, including Kann and Goodman. It is a prohibitively rare piece which is likely to attract frenzied bidding.
While we are no longer accepting consignments of Chinese and other Asian coins and currency for our August 2018 Hong Kong Showcase Auction we are accepting consignments for the April 2019 Hong Kong Showcase Auction. In addition, we are currently taking consignments of world and ancient coins and world paper money for our October 2018 Collector's Choice Online Auction as well as the January 2019 New York International Auction. If you are interested in consigning your coins and paper currency (whether a whole collection or a single rarity) contact one of our consignment directors.