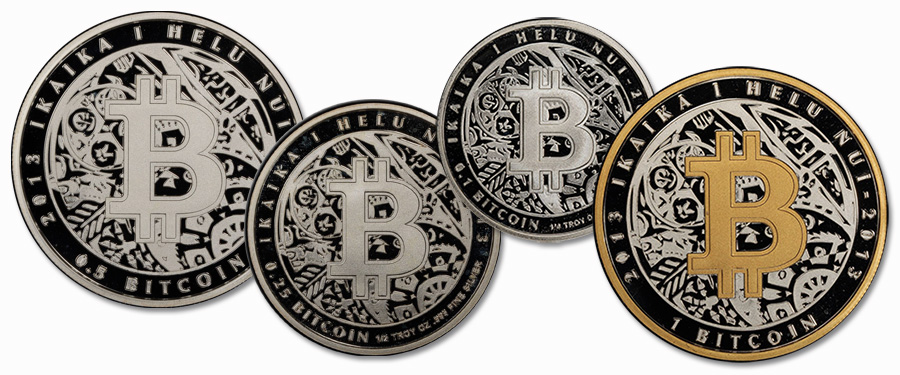 We are excited to feature a scarce four-coin set of silver 2013 Lealana physical bitcoins in our Spring 2022 Showcase Auction. Struck in .999 fine silver and graded by PCGS, this set offers incredible rarity and exceptional condition. Each coin is marked with the serial number 24, making it one of the earliest sets issued by Lealana creator Noah Luis, aka "smoothie."
The coins from this set remain "loaded" and unpeeled and will be offered individually in consecutive lots, though an advanced collector could potentially acquire all four coins and keep the set intact. The set includes a 0.1 BTC graded Proof-70 Deep Cameo, a 0.25 BTC graded Proof-69 Deep Cameo, a 0.5 BTC graded Proof-70 Deep Cameo, and an important gold-plated 1 BTC graded Proof-69 Deep Cameo. The last is described by specialist Elias Ahonen as "perhaps the most visually interesting" issue from this series in his Encyclopedia of Physical Bitcoins and other Crypto-Currencies.  The coins are accompanied by the original certificates of authenticity.
With a rising number of these coins being peeled and redeemed for their intrinsic bitcoin value, unpeeled and "loaded" physical cryptocurrency has become increasingly scarce and often command significant premiums above their intrinsic "face value." Unredeemed four-coin sets with matching serial numbers like the present group are even more elusive. With a nearly 500% premium realized by the SP-70 (PCGS) Lealana 0.1 Bitcoin in our November 2021 sale, enthusiasm among aficionados of cryptocurrency and traditional numismatists is evidently strong for this new and exciting category.
This desirable Lealana bitcoin set will be offered alongside a remarkable selection of physical cryptocurrency in our Spring 2022 Showcase Auction, including several brass 2011 Casascius 1 BTC coins and a scarce three-coin Lealana litecoin (LTC) set. For questions about this upcoming offering of cryptocurrency or to consign your traditional numismatic rarities to a future sale, contact the firm at [email protected] or call 800-566-2580.