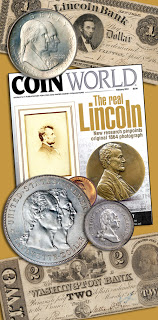 In the 20th century presidents came to the fore in coin designs. Today they are everywhere. Our current coinage shows Abraham Lincoln on the cent (since 1909), Thomas Jefferson on the nickel (since 1938), Franklin D. Roosevelt on the dime (since 1946), George Washington on the quarter (since 1932), and John Kennedy on the half dollar (since 1964). As to the dollars, we have our presidential series that started with Washington and continues at the rate of four a year. From 1971 to 1978 Dwight D. Eisenhower appeared on the regular dollar. Miss Liberty, once familiar, has disappeared.
Do you know the first appearance of a president on a legal tender coin? The answer is somewhat obscure, the 1900 Lafayette commemorative silver dollarwhich featured the portraits of Washington and Lafayette together. If you have a technical turn of mind and realize that the Coinage Act of 1965 made legal tender all past coins struck by the mints, this would include patterns. By this definition the earliest president to appear on legal tender coins was George Washington on pattern two-cent pieces of 1863. Washington appeared on certain other patterns as well during the decade. Abraham Lincoln was next, with his image on an 1866 pattern nickel, a rarity today.
Since 1900 many presidents have been featured on regular and commemorative coins. The obvious omission is Theodore (Teddy) Roosevelt, who has been ignored, except for a tiny representation on certain coins picturing Mount Rushmore—which really doesn't count. On the other hand, Calvin Coolidge, not remembered today as one of the greatest of presidents, was pictured during his lifetime on the obverse of the 1926 Sesquicentennial half dollar.
In contrast, presidential portraits have been in common use on paper money for a long time. George Washington appeared on a bank note a few years after his passing in 1799. Federal paper money of the 19th century included Washington, Lincoln, Jefferson, Grant, and others.
Changing my drift slightly:
In Coin World February 6, Fred Reed presented an article on the image of Abraham Lincoln used by Victor D. Brenner on the 1909 cent. The author examined different photographic portraits from the 1860s and precisely identified the one used by Brenner, although some others are quite similar. This was a magnificent study, and if you can find a copy I suggest that you read it.
Interesting to contemplate!