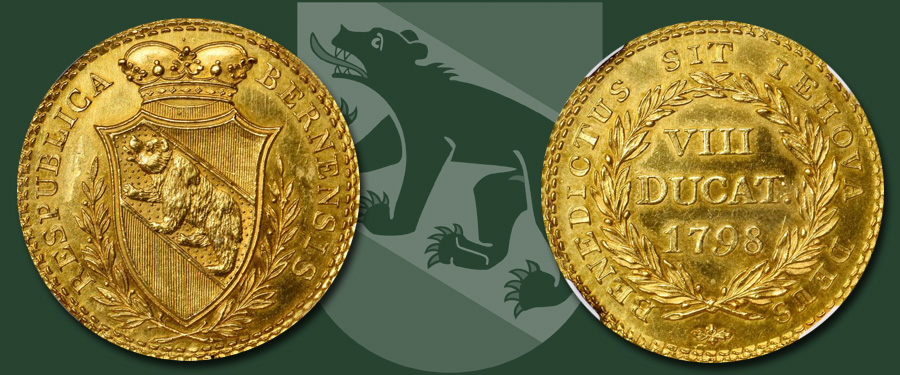 The January New York International Numismatic Convention Auction is now live for bidding and can be browsed here. This sale offers a robust selection of extremely rare issues from all over Europe, as is reflected on the catalog's cover.  The Canton of Bern in Switzerland was the source of this lovely multiple ducat offered in lot 41399 in the auction.
The founding of the city of Bern is attributed to Berthold V, Duke of Zahringen in the year 1191. Local legend states that Duke Berthold vowed to name the city after the first animal that crossed his path during his next hunt. That animal turned out to be a bear, and so the bear became the heraldic representation on the seal and coat of arms of Bern from at least 1220. Additionally, the city would keep live bears in a Bärengraben "Bear Pit" at the edge of the old city, a tradition dating back to the 15th century.
                The aforementioned heraldic bear dominates the obverse design of the 8 Ducats. A bear walks with its front right paw raised along a diagonal band on a crowned shield between laurel sprays. The legend states: "RESPUBLICA BERNENSIS" or Republic of Bern. The reverse features a simpler design: the outer legend states: "BENEDICTUS SIT IEHOVA DEUS" (Blessed be Jehovah God). The inner design is a laurel wreath enclosing a three line inscription: "VIII / DUCAT / 1798" (the denomination and date). A four petaled rosette marks the start and finish of the outer legend. This elusive example of a two year issue is certified by NGC as MS-63, and is the only example of the type currently certified by either NGC or PCGS. Gorgeous and lively sunset orange toning livens up the intricate designs while appealing prooflike reflectivity adds to the exceptional desirability of this rare piece.
While we are no longer taking consignments for our January 2019 New York International Auction, we are taking consignments of world and ancient coins and world paper money for the upcoming February 2019 Collector's Choice Online Auction and the August 2019 ANA World's Fair of Money Auction in Rosemont, Illinois, a suburb of Chicago. We are also accepting consignments of Chinese and other Asian coins and currency for our March 2019 Hong Kong Showcase Auction. Time is running short, so if you are interested in consigning your coins and paper currency (whether a whole collection or a single rarity) contact one of our consignment directors.