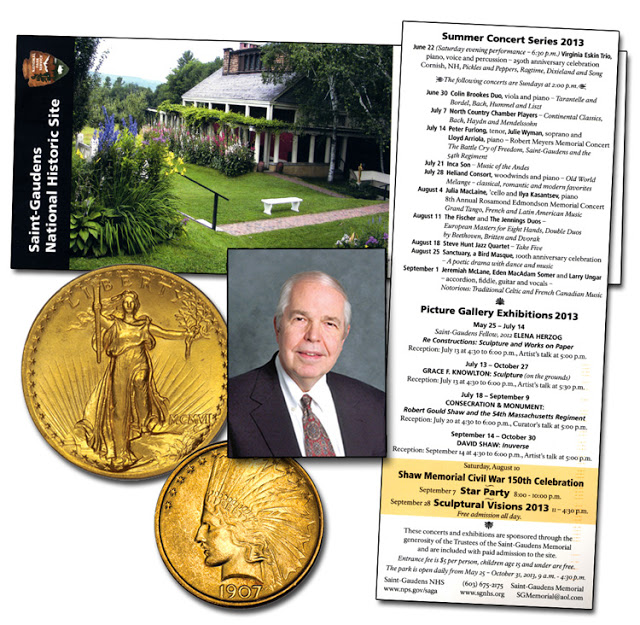 The other day I received in the mail a colorful notice from the Saint-Gaudens National Historic Site in Cornish, New Hampshire. As you probably know, this was the home and studio of America's most famous sculptor Augustus Saint-Gaudens in the 1890s through to his passing on August 3, 1907. Along the way, beginning in 1905, he set about fulfilling a commission given to him by President Theodore Roosevelt, to redesign the entire American coinage from the cent to the double eagle. As circumstances and ill health dictated, he was only able to complete basic designs for the $10 Indian Head gold eagle and the MCMVII High Relief double eagle. The finishing touches were added by his assistant, Henry Hering, after Saint-Gaudens' death. The new eagles were released in the autumn of 1907 and the MCMVII double eagles in December. Today, both designs remain favorites.
The Saint-Gaudens National Historic Site is open in the summer and offers tours of his home and studio, including sketches, plaster casts, and many other items relating to the coinage. In addition you will see a version of the famous Shaw Memorial (the finished example of which stands on the Boston Common across from the Massachusetts State House), the figure of Diana once on top of Madison Square Garden, and much more. The site is a pleasant drive through the countryside. Plan to spend a couple of hours during the visit and bring your camera.
The notice told of special concerts and events to be held this summer beginning in May, information concerning which is given here. If you plan to go I guarantee you will have a nice time.
See you next week!