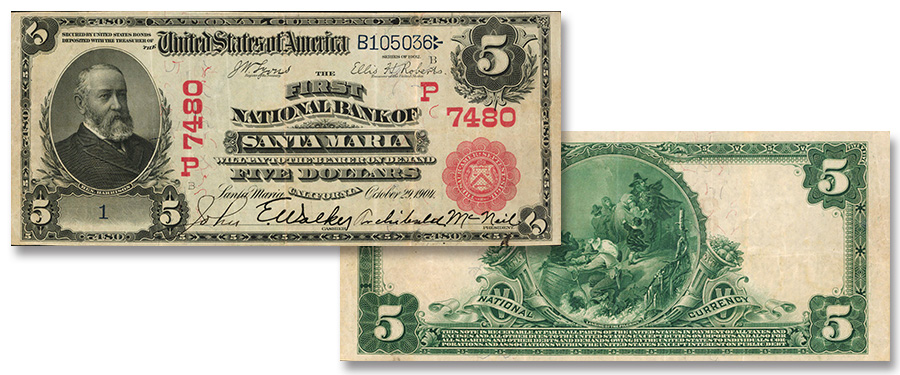 New Santa Maria Note Added to Sale​
Stack's Bowers Galleries is pleased to feature in our Official Auction at the ANA World's Fair of Money the first Red Seal to come forward from the First National Bank of Santa Maria, California. This offering is made even more special by the fact that it bears serial number 1. This large size only Santa Barbara County bank was chartered in November of 1904 and it issued $907,750 into circulation before liquidating in February of 1928. The addition of this newly discovered note to the census brings the total population known on the bank to just 13 examples.
This modestly circulated, well margined $5 note displays deep red overprint inks and boldly signed signatures of bank officers Walker and McNeil. While it isn't terribly unusual for new blue seal discoveries to be made for California banks, red seal and older additions are few and far between. There are no doubt quite a number of collectors who have been waiting for something from Santa Maria besides a circulated blue seal to represent the charter in their holdings. The note will be featured in Stack's Bowers Galleries ANA auction where it carries a pre-auction estimate of $25,000-$35,000.
Stack's Bowers Galleries Official Auction at the ANA World's Fair of Money will be held August 13-16 in Rosemont, Illinois. United States Currency sessions will be held on the evenings of Wednesday, August 14 and Thursday, August 15. For more information visit www.stacksbowers.com or email Director of Currency Peter Treglia at [email protected].​