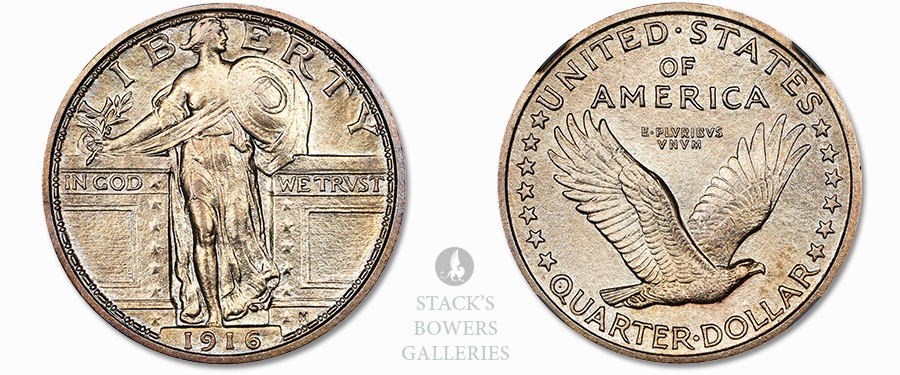 Hermon MacNeil's Standing Liberty quarter, introduced in 1916, is widely regarded as among the most beautiful coin produced in the United States, a pillar of the "Renaissance of American Coinage." The series introductory issue is known for its weak strike and Liberty's bare right breast, a detail which was changed partway through 1917. In our August 2023 Global Showcase Auction, Stack's Bowers Galleries will be offering an attractive, fully-struck example of this classic United States coin, certified MS-64 FH by NGC.
A popular numismatic myth holds that Liberty's bare breast was covered to satisfy the sensibilities of a puritanical public, but no historical evidence supports this claim. The chain mail was added to symbolize the United States' defensive capabilities and resolve, a message that would prove prescient with the nation's entrance into World War I the next year.
McNeil himself proposed this design change alongside a number of modifications that the Mint made to his design before the quarters entered circulation. Dies were prepared in July 1916 and in December, 52,000 of the new quarters were produced, NGC Coin Explorer offers this account of the coins' initial production and release: "Because the obverse of the 1916 quarters had a soft, unfinished quality to it, the Mint's new Director, F. J. H. von Engelken, held them back until the sharpened hubs for 1917 had produced enough pieces to issue the two dates together. Thus were both the 1916 and 1917 quarters released simultaneously on January 17, 1917."
Beautiful as McNeil's design was, it proved difficult to fully strike, most notably on Liberty's head on the obverse. The 1997 third edition of J.H. Cline's Standing Liberty Quarters offers this explanation for the weakness: "There were any 1916 and 1917, Ty. I's that were struck from rusty dies that give them a satin-looking finish at first glance, but they are not to be confused with the very rare matte proof of the same year. The hair detail is different in style than the 1917 Ty. I. Top of head: last 3 curls seem to fall toward back of head. Hair detail is almost incused – most always very softly struck of 'mushy' as some prefer to call it." "Rust knocked off all high points or they were polished off in removing the rust."
Cline estimated that 3% of 1916 Standing Liberty quarters have Full Heads and these, especially the first-year 1916 issue, can command significant premiums over less well struck examples. In its Census at time of writing, NGC reports 238 other grading events for 1916 Standing Liberty quarters with Full Heads. 56 of these events are for coins in MS-64 and 84 are for finer coins (MS-65 to MS-67). This data places the coin in our August sale solidly in the upper tier of examples for the date.
The coin exhibits delicate iridescent toning on full mint luster. It is fully struck throughout with strong eye appeal.
For more information on our August 2023 Global Showcase Auction or to consign your numismatic items to this or another of our upcoming auctions, call 800-458-4646 or email [email protected].