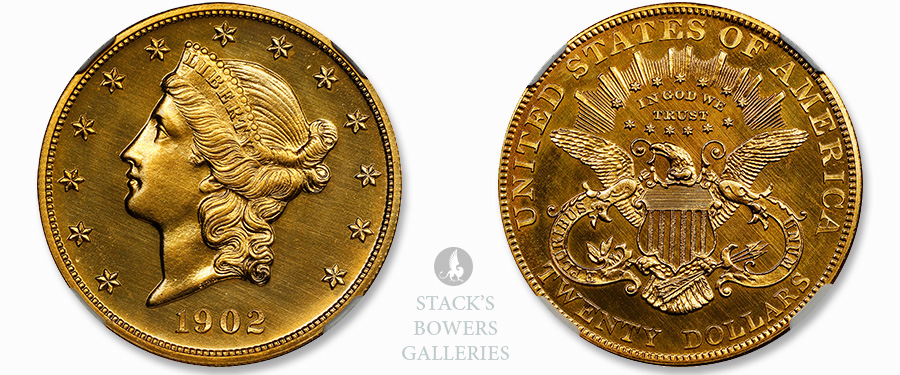 1902 Proof double eagles are not common coins; they have a reported mintage of just 114 coins and an estimated surviving population under 100 coins. This date is distinguished by its "all brilliant" finish, as the usually frosted devices are brilliant, eliminating the cameo contrast between the devices and fields. The mintage of business strikes for the date is also low, at just 31,140.
Stack's Bowers Galleries is excited to offer a spectacular Proof 1902 double eagle, certified PF-66 by NGC, in our Spring 2023 Rarities Night session. Advanced collectors of Liberty Head double eagles, or those interested in Proof U.S. gold will surely jump at the opportunity to add such a magnificent specimen to their cabinets.
The reason for the shift from cameo to brilliant Proof finish around the turn of the 20th century is not immediately clear, but it is thought to have something to do with prevailing collector tastes at the time. John Dannreuther, an expert on Proof gold U.S. coinage, ponders "Why the Mint no longer heavily frosted the devices is unknown, but one must wonder if collectors of the day complained." The brilliant finish was the norm for the rest of the type's life.
Estimates of the surviving population vary, with experts placing the number somewhere between 40 and 80 examples. NGC assigned the example we're offering a Proof-66 grade, placing it near the top of that service's census.
Our cataloger was clearly impressed by the coin's appearance, writing "Vivid orange-gold surfaces are universally brilliant with pronounced reflectivity readily evident. The delicate surfaces are free of significant handling, accentuating the color and finish. The striking detail is full, exhibiting even the most intricate design elements."