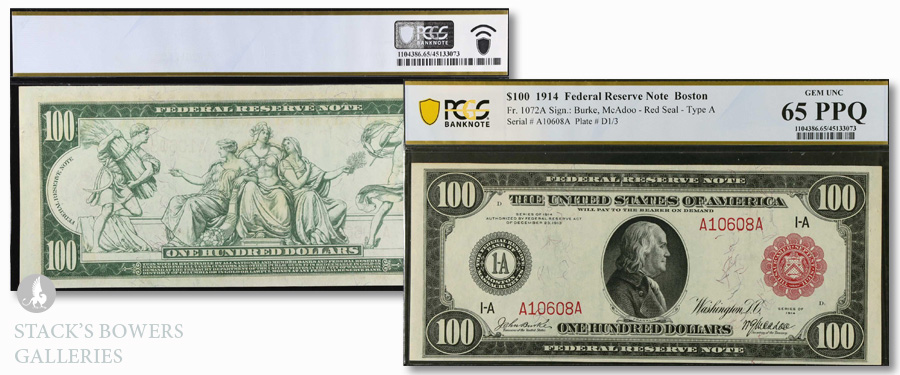 Our Summer 2022 Global Showcase Auction is currently available at StacksBowers.com for viewing and bidding. We are offering 659 lots in our live session for U.S. Paper Money, which will take place on Wednesday, August 24. One impressive note from the sale from the Boston Proper Collection is lot 20315, Fr. 1072A 1914 Red Seal $100 Federal Reserve Note from the Boston district in a PCGS Banknote Gem Uncirculated 65 EPQ grade.
PCGS Banknote has graded just two examples of this elusive design type. This $100 Red Seal is from the Federal Reserve Bank of Boston as attested to by the black district seal at left which features a bold "1-A" within. At center is a profile of founding father Benjamin Franklin facing to the right. A red scalloped Treasury Seal is at right. Red printed serial numbers are to the lower left and top right. The Treasury official signatures are Burke and McAdoo. This is an "a" variety note with a large district number and letter at bottom left and top right and small plate letters at top left and bottom right. The back features an intricate design with five allegorical figures representing Labor, Plenty, America, Peace, and Commerce. PCGS Banknote Pop 1/1 finer.
We are currently taking consignments for our Official Auction of the Whitman Coin & Collectibles Winter Expo and our monthly CCO auctions. To consign your U.S. paper money and world paper money to a future sale, contact a consignment specialist at 800-458-4646 or visit StacksBowers.com. For more information on viewing lots or for assistance in registering to bid, email your inquiry to: [email protected]​.