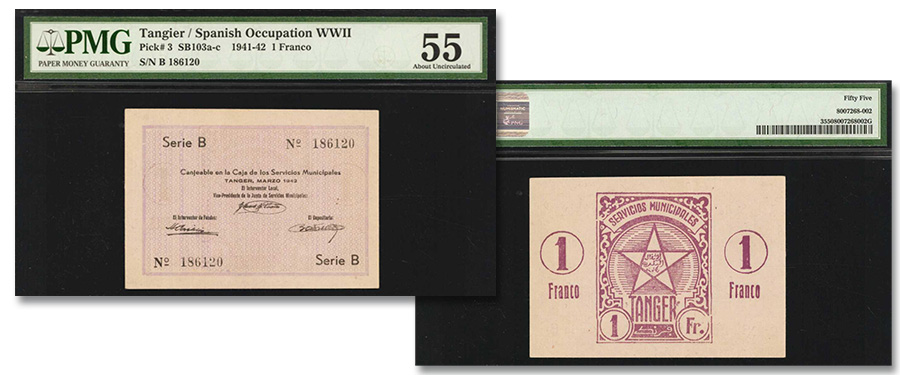 Our upcoming June World Paper Money
CCO sale offers an exciting array of highly desirable notes from a
multitude of countries. Lot 70622 features a rare note from the Spanish Occupation
of Tangier, a 1941-42 1 Franco P-3 note in PMG About Uncirculated 55 grade.
Tangier is a city in northwestern Morocco, which at the time
of WWII was a French Protectorate. Tangier itself was declared an International
Zone in 1924 in hopes of creating a demilitarized zone, and was governed by a
joint administration of France, Spain & the United Kingdom. Spain occupied
Tangier on the 14th of June 1940, the same day Nazi troops entered
Paris. With the Allied forces back-peddling under the Nazi Blitzkrieg, Spain
seized on the opportunity to occupy once held French territories and
protectorates. Spain had plans to occupy Morocco, but refrained under orders of
the Nazi-backed Vichy Government of France.
The presently offered, scarce note is the finest we have had
the pleasure of offering and displays truly exceptional color and pleasing
details. It has no netting defects or issues. Dark purple ink stands out on the
back of the note, which displays a star at center with Arabic within, and
circled "1" counters at left and right. This is truly an important opportunity
for collectors of World War issues along with those who collect Spanish
Occupied notes. PMG's population report states they have encapsulated four of
this variety, with this note being the finest graded by their service.
The Stack's Bowers Galleries June World Paper Money CCO sale
will take place on June 24th at 9 AM PDT, and is currently available
for viewing, bidding, and bidder registration at StacksBowers.com. For more
information on viewing lots or to request assistance in registering to bid,
contact [email protected].