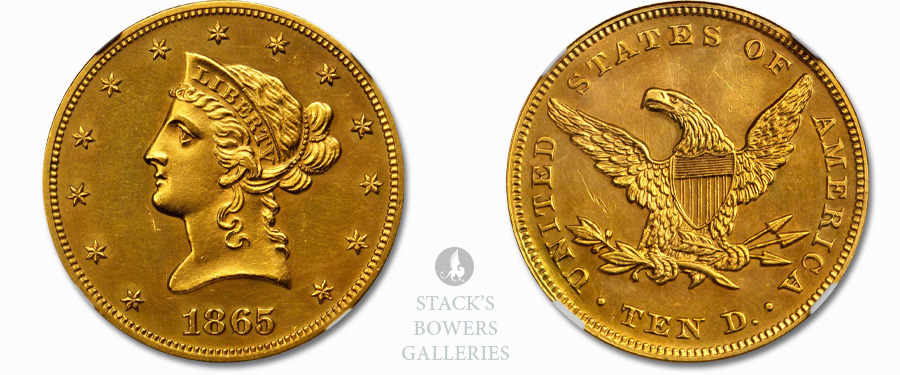 The Proof 1865 $10 eagle is a major rarity that represents a challenge for even the most advanced collectors. The mintage is just 25 pieces, all of which were struck on March 8, almost exactly one month before Lee's surrender of the Army of Northern Virginia to Grant at the McLean House in Appomattox, Virginia, an act that essentially ended the Civil War. As the final Proof Liberty Head eagle of the No Motto design type, struck during a pivotal year in U.S. history, this is a desirable issue for numismatists and Civil War enthusiasts. Due to its extreme rarity, however, very few will have the opportunity to see an example, and fewer still will be able to own one. We have confirmed that only six different Proof 1865 eagles have been offered at auction since 1950, confirming the absolute rarity of this issue as well as the infrequency with which examples trade. It is likely that owners keep them tightly held in collections. Indeed, several examples that have traded at auction in decades past seem to have been off the market since, confounding the efforts of researchers attempting to build an accurate census of known examples and advanced collectors seeking to obtain a specimen.
The present offering displays a strike that is needle sharp. The texture is satiny, and the devices contrast appreciably with glassy fields. A subtle orange peel texture is discernible in the fields when examined with a loupe, adding appeal to this rare 19th century Proof Liberty Head eagle. A thin contact mark in the left obverse field before Liberty's chin and a more expansive mark in the left reverse field are mentioned as provenance markers. This is clearly a superior specimen for the assigned grade and at the threshold of full Choice Proof quality, this Proof 1865 eagle deserves serious consideration by advanced collectors. As past auction records make clear, once this coin finds its way into a new collection, it may be many years before it returns to the open market. Worthy of the strongest bid.
For more information about the Stack's Bowers Galleries November 2023 auction visit StacksBowers.com. To consign your coins or paper money to one of our Showcase auctions or to our Collectors Choice Online auctions call 800-458-4646 or email [email protected].