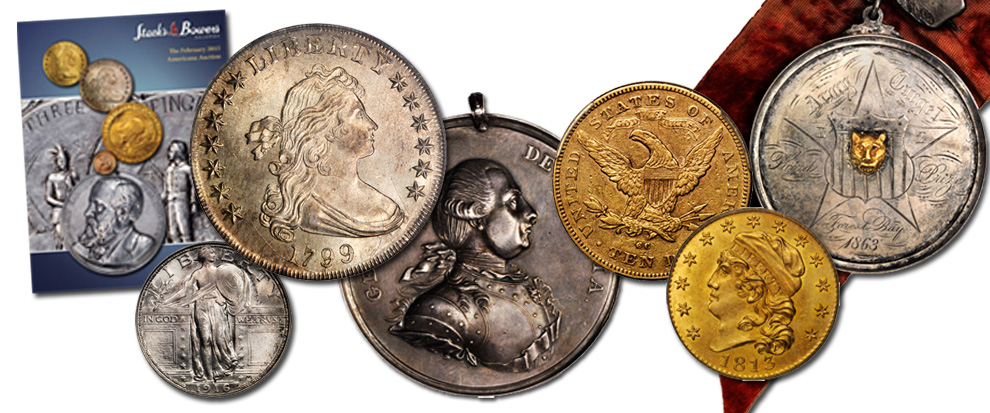 A Great Numismatic Tradition
For many years our Americana Sales, held in New York City, have set the pace for collectors, dealers, museum curators and others seeking quality coins from colonial issues onward. As we welcome you to this year's event, we invite you to join us at the Stack's Bowers Galleries auction venue on the second floor of the Directors Guild of America building, located at 110 West 57th Street, diagonally opposite our long-time gallery at 123 West 57th.
Lot viewing in New York City will be from February 1-6, from 9 a.m. until 5 p.m. (ET). Come early, bring your friends or family, and enjoy a few days in the art and financial capital of the world. Fine restaurants abound, as we are just a few steps from Carnegie Hall, and a short walk to Central Park, Fifth Avenue and Times Square.
Highlights of the Sale
While the catalog and sale speak for itself, we'll mention some highlights that are bound to be of special interest:
Session 1 begins Th­ursday, February 5, at 11 a.m. (ET), and is devoted to Numismatic Americana. Going back to the early 20th century, tokens, medals and related items were the hottest tickets in the coin market. Hardly anyone collected Morgan silver dollars by date and mint, or high-denomination gold coins. Today, Morgan dollars, commemoratives, gold of all series, modern issues, and more make up the dynamic of the marketplace, attracting hundreds of thousands of enthusiasts. Tokens and medals remain active as well, but now more as specialties.
For those interested in this field, our Americana Sale contains many treasures. Pedigreed to the Louis E. Eliasberg, Sr. Collection is a unique display of gold medals with the portrait of Abraham Lincoln, and will be offered individually. Certain of the items are unique! Sutler tokens, among the most historical and fascinating series, are from a major specialized collection formed over a long period of years. Similar to Civil War tokens, Sutler tokens offer the opportunity to buy major rarities for tiny fractions of the prices of federal coins (Shhhh! don't tell anyone!). Our incredible offering of over 25 Indian Peace medals will attract interest from every direction. Socalled dollars, especially popular today, include rare prizes. Life Saving medals, Hard Times tokens, and other pieces are important as well. Many other items will surely pique your fancy.
On Th­ursday, February 5, Session 2 begins at 5 p.m. (ET), and opens with colonial and early American coins, half cents, large cents, and silver series through half dollars. "Type" coins, rarities, and other opportunities beckon. Among the attractions are a beautiful AU 1793 and Gem Proof 1840 half cents, a Choice Mint State 1822 dime (a coin usually seen in worn grades), and an MS-66 Full Bands 1942/1 dime, to mention just a few. Many of these are from the Highland Collection, another important consignment.
Session 2 also offers the bulk of the Indian and Lincoln cents in the Providence 1951 Collection. Begun in that year, by 1963 this collection contained two complete sets of Mint State Indian and Lincoln cents, one each for the original collector's sons. One son sold his set decades ago; the second son's coins, out of the numismatic marketplace for 50+ years, include many of the world-class small cents offered in the pages of this catalog. Among the featured highlights of the Providence 1951 Collection are a key date 1877 Indian cent in PCGS/CAC MS-65+ RD and an equally desirable 1914-D Lincoln cent also in PCGS MS-65 RD.
Session 3 begins Friday, February 6, at 6 p.m. (ET), and will feature many beautiful coins from the Stephen Winthrop Collection. Th­e collection includes key issues and popular rarities from the 1790s onward, including a Gem 1942/1-D dime, a Gem 1916 Standing Liberty quarter, 19th century gold, a Gem MCMVII High Relief double eagle, and both types of 1915-S $50 gold coins from the Panama-Pacific International Exposition. As explained in the introduction to the Winthrop Collection at the start of Session 3, the proceeds from the sale of these lots will be gift­ed to Harvard University to promote research on ALS.
Friday's session will also include federal coins from silver dollars through gold, patterns, territorial gold (highlighted by a beautiful 1851 Augustus Humbert $50), and more. Among exceptional pieces you will find a high-grade 1795 BB-51 Draped Bust silver dollar (the first issue of this design type), a Gem Mint State 1799 dollar pedigreed to the Cardinal Collection, and a Proof 1895 dollar. Gold coins feature Proofs, including a beautiful 1879 $4 Stella, a Mint State 1866-S No Motto $20 rarity, a premium Gem Proof-66 1907 Liberty Head $20, and more.
Session 4 features our Internet-only sale, and will close on February 10, at 3 p.m. (PT).
Further Thoughts
Over the years, dating back to our first auction in 1935, we have handled thousands of collections from modest size to the very greatest (the Ford and Eliasberg collections, each challenging $60 million, hold the records).
Records are made to be broken, and we did this in 1996, with the first-ever million-dollar coin to be auctioned. Last year at our Americana Sale, we sold the first $10 million coin. As you read these words, the D. Brent Pogue Collection is in the offing, with our first sale to be held in New York City in May, in partnership with Sotheby's. Formed over a long period of years beginning in the 1970s, the more than 650 coins in this collection comprise the highest-quality and most valuable collection of early federal coins, mainly 1792 to 1839, ever to cross the auction block. We invite you to participate as a bidder or an observer and be part of numismatic history as it is made. As a participant in the current Americana Sale and future Stack's Bowers Galleries auction events, you will be linked with others by a common bond of finding such items interesting to contemplate, and even nicer to own.
On behalf of the Stack's Bowers Galleries staff we thank you for reviewing our Americana Sale and wish you the best of success in acquiring the items of greatest interest. And, all the best for you and yours for a happy, healthy and prosperous 2015.
Sincerely,
Q. David Bowers
Founder
Special note: If you are thinking of selling your coins, we would be delighted to make a proposal to showcase your collection or individual rare items in our star-spangled schedule of upcoming public auction sales, including as an official auctioneer of "the convention of the year," the World's Fair of Money, sponsored by the American Numismatic Association in Chicago this August.
Among the five greatest convention auction venues each year are the three Whitman Coins & Collectibles Expos held in Baltimore in March (coming up soon — we are working on it now), July, and November, for which we have been the official auctioneer for many years.
Catch the high tide of the dynamic 2015 market! Let our unequalled success be your success. Call or e-mail now. ­This may be the most profitable decision you have ever made.