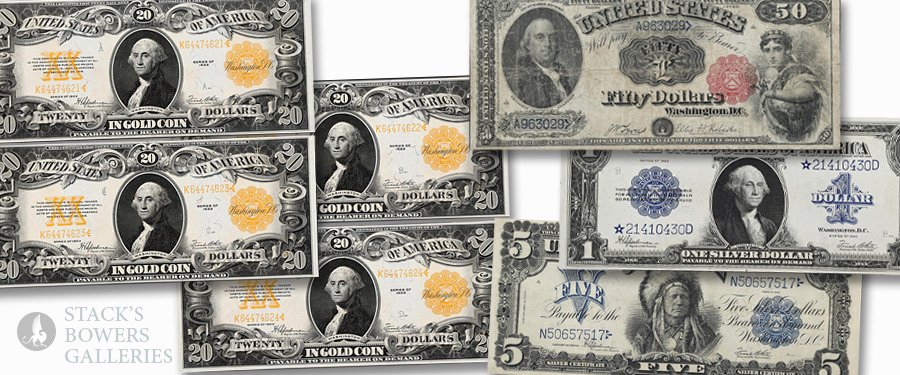 If you haven't gotten your fill of numismatic action last week and this, we proudly present the U.S. Paper Money Internet Session for the 2023 August Global Showcase Auction. Session 12 features nearly 800 lots of Colonial, Obsolete, Large Size, Small Size, and National Banknotes, an offering with something for everyone. All lots in our August sale are available for viewing and bidding at StacksBowers.com.
For this numismatist, Large Size Notes are most enticing. My nine-year-old son assisted me at a local coin show a couple of years back, and I told him that for his efforts, I would buy him a coin. He looked around the show, and nothing inspired him (and he was shown ancient Greek coins, shipwreck coins, and some really cool stuff). He was drawn more to banknotes. I told him that he should look at the large size notes. The designs are beautiful, diverse, and you can obtain very popular notes in highly collectible grades at affordable prices. So this blog post is dedicated to him, as it was written while he and I reviewed the listings together.
Large Size notes in the session comprise 183 lots, dating from the early days of the Civil War, when the federal government began issuing bank notes, to 1923, when the last series came out. In 1928, in an effort to cut costs, federal paper money was shrunk to the size we know it today. The large size notes are not only historic, but also colorful in both print and nomenclature, with nicknames like "Woodchopper," "Tombstone," "Jackass," "Bison," "Rainbow," "Chief," "Educational," "Porthole,", "Black Eagle," and Battleship." Looking through the notes in Session 12, there are examples of each type noted above and so many more. A few lots that caught our attention are listed here:
Lot 22179: A well circulated 1880 Legal Tender $50, with an iconic portrait of Benjamin Franklin. Graded PMG F15.
Lot 22217: A tied for Top Pop Fr. 237*, graded PMG 66 EPQ This is a very scarce 1923 Silver Certificate Star Note in GEM grade.
Lot 22221: A great looking EF $5 Chief, designated as having Premium Paper Quality by PCGS Currency. An ever popular note in a fabulous collector grade!
Lot 22310: A cut sheet of four consecutive 1922 $20 Gold Certificates. Each note is graded Choice AU58 by PMG. While they all have the notation from PMG of a "spindle hole," the gold inking contrasting against the bright white paper gives these notes a great look, despite the minor flaw.
Live Bidding for Session 12 will take place on Tuesday, August 22, beginning at 9am PDT.
If you have any collectible Large Size type notes to sell, we are always accepting consignments for our Showcase and CCO Auctions. Contact us today by phone at 800-522-5280 or by email at [email protected].